Roger Federer might have dominated Rafael Nadal in their head-to-head meetings this year, but the world number one from Spain needs just one more win to clinch the coveted year-ending top spot.
The Spanish great is eyeing a fourth year-ending world number one finish and the first since 2013. Notably, Nadal had finished 2008 and 2010 on top of the ATP rankings.
The 32-year-old can reach the milestone as early as on Wednesday, November 1 when he takes on world number 55 Chung Hyeon of South Korea in the second round of Paris Masters, which will be the last Masters 1000 tournament before ATP World Tour Finals, starting November 12 in London.
Federer, the world number two, was in the race to achieve the year-ending number one spot for the sixth time in his career, but his decision to skip the upcoming Paris Masters has dampened his chances. Notably, the Swiss great brought down the deficit to 1460 points after winning the Basel Open on Sunday, October 29.
Nadal's chances of clinching the year-ending top-spot on Wednesday are looking bright as the southpaw had crushed Chung only recently at this year's clay-court tournament in Barcelona. Also, the 16-time Grand Slam champion has never lost before the quarter-final rounds in his five appearances in Paris.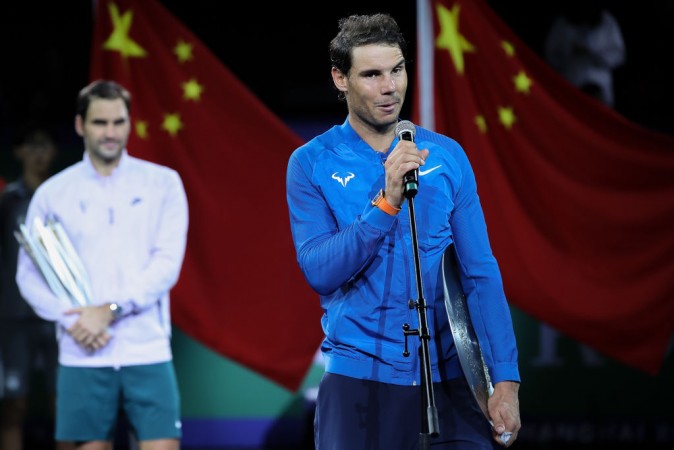 'Let's see'
Nadal, who won Grand Slam titles at the French Open and US Open, though is not completely focussed on the lucrative top spot, but seems to be hungry for more in what has been a dream season for him.
"Let's see. I need to win a match. But I am here to try my best as in every tournament. Of course, if that happens, it will be something important for me," Nadal said on Monday in Paris.
He added: "But season is not over and this is not the moment to think much about that. I will just try to think about trying to have the right preparation for the tournament and then try to be ready for the first match."
Meanwhile, Nadal also is looking set to surpass Novak Djokovic on the list of most ATP Masters 1000 titles as both the modern-day greats are tied at 30.
Nadal has not won the title in Paris in the past, but the withdrawal of Federer and the extended rest he has had after his runner-up finish at Shanghai Masters makes him favourite for the crown.