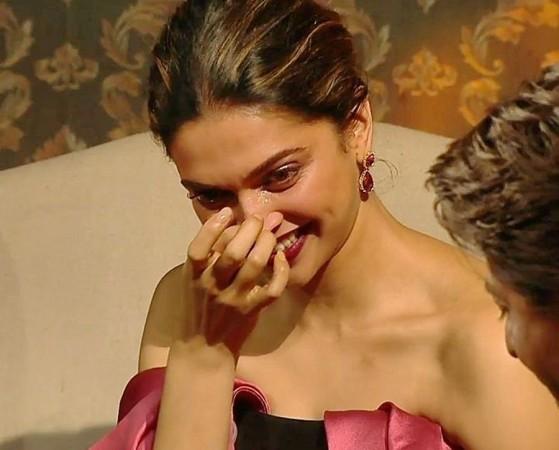 Deepika Padukone, who is emotionally very sensitive, broke down on the first episode of Shah Rukh Khan's new chat show Baatein with Baadshah when King Khan read out a heart-warming letter to her from her mother Ujjala Padukone.
After listening to the congratulatory message from her mother, Deepika couldn't hold back her tears. And the chivalrous Shah Rukh Khan quickly got up to wipe off the tears from her face yet again proving himself to be a true gentleman in life. The short clip from the episode is now doing the rounds of the internet which is both emotional and adorable in nature.
The letter talked about how Deepika fought her battles with depression and her challenges in life but never lost her morality and kindness in her heart.
On the same episode, when Shah Rukh Khan was having a tete-a-tete with his first guest Deepika Padukone, SRK displayed a video message from Ranveer to his Mastani in a quirky way, where he was seen dancing to the tunes of Ek Ladki Ko Dekha from 1942 A Love Story, wearing a silver hooded jacket teamed with blue shades.
A wide smile flashed across Deepika's face while watching the video, and she was seen blushing and hiding her face from the camera with a pillow throughout.
The video undoubtedly elicited a lot of laughter from her. She was even seen affectionately calling him a clown for his over-the-top antics, which Ranveer is quite popular for.
Towards the end of the video, Ranveer said: "Mandir mein ho ek jalta diya, Diya, yaani ke Deepika, yaani ke aap. Aapke baare mein kya kahun? Jis tareeke se aap, apne karoron chahne waalon ke zindagi me ujaala ban ke aayi, meri zindagi mein ujala ban ke aayi. Mai upar wale se yahi dua karunga ki aapki bhi zindagi me ujala barkaraar rahe, humesha humesha ke liye."
Translation: "Now what should I say about you? You have come into my life like a shining ray of light and brightened it just the way you have lit the lives of thousands of your fans. My only wish to God is to always keep your life glowing like a star. There's nobody like you! God bless you and love you lots!"