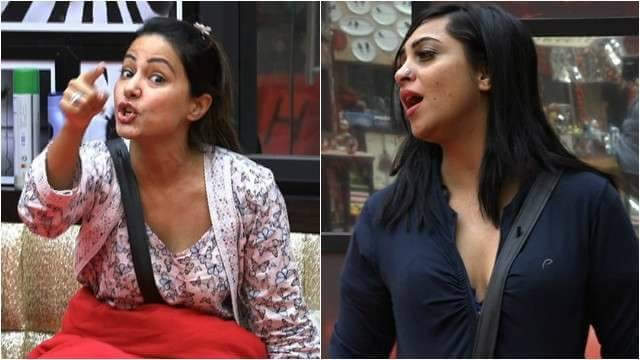 Bigg Boss 11 fans are quite disappointed with Hina Khan and Priyank Sharma for their behaviour during the latest episode. Priyank and Hina demeaned Arshi Khan during a luxury budget task.
As we earlier reported fans' reactions on Priyank slut-shaming Arshi, now they are disappointed with Hina as well. So, the luxury budget task – BB Adaalat – began on Tuesday.
In the task, the Bigg Boss house is turned into a courtroom, in which divorce case of Hiten Tejwani and Arshi Khan has been held.
These are the characters played by the other housemates: Hina is Hiten's sister, Priyank Sharma, Luv Tyagi are Hiten's brother. Shilpa Shinde plays Arshi's mother's role. Puneesh and Vikas are Arshi's brother, while Sapna and Bandgi are the judges and also the sanchalaks of BB Adaalat.
During the task, Hina demeaned Arshi and called her "characterless." Hina said that Arshi flirts with everyone, but things turned ugly when Priyank called Arshi "cheap" and commented on her clothes.
While a big fight erupted between Arshi and Priyank, Hina was seen supporting the latter. Before that, she manipulated Sapna Chaudhary against Puneesh Sharma as well.
Hina Khan, who carries with herself the slogan of 'girl power,' has turned out to be a villain for the fans. The "adarsh bahu" of television has been slammed several times for her actions and reactions on Bigg Boss.
Here's what fans have to say this time for Hina:
What kind of women is hina khan . Trying to degrade other women's respect on show. And making Naari Slogan in other show. ? #BB11 #BiggBoss11

— Sana N (@sananakhwa) November 21, 2017
#eyehinakhan I hate you. How can you laugh on someone... Let me tell you this is the reason Arshi khan is different from Hina khan... No matter how popular you are but you lose your all respect... #Arshi love you. #hina hate you. #bb11

— Puja Sarkar (@puja1132) November 17, 2017
Hina khan and priyank are the most pathetic contestants i have ever seen in bigg boss...they are totally after arshi and shilpa for no reason..slut shaming body shaming weight shaming is all they know

— kajol ?? (@Leonotcaprio) November 22, 2017