Of late, star kids Jhanvi Kapoor and Ishaan Khattar and their alleged affair have been doing the rounds. Recently, they were also spotted together in a movie date, which further sparked off rumours that the two are indeed dating.
Looks like Shahid Kapoor's warning went over Ishaan Khattar's head! Young actor spotted with Jhanvi Kapoor [PHOTOS]

There is also news that Sridevi's daughter and Shahid Kapoor's brother will star in the Hindi remake of Marathi blockbuster Sairat.
However, amid all the dating rumours, it has been revealed that the two are far from being in a relationship as they are not even in good terms. According to a DNA report, Jhanvi and Ishaan have been asked by Sairat makers to go out in public together and gain visibility, which would reportedly be helpful for them to showcase a great chemistry on the big screen.
"Jhanvi is reserved like her mom and has not opened up to Ishaan, who has a fun vibe. The duo have been told to go out in public together and gain visibility as a pair. On the few occasions that they went out, Jhanvi did not make an effort to interact with Ishaan," a source told DNA.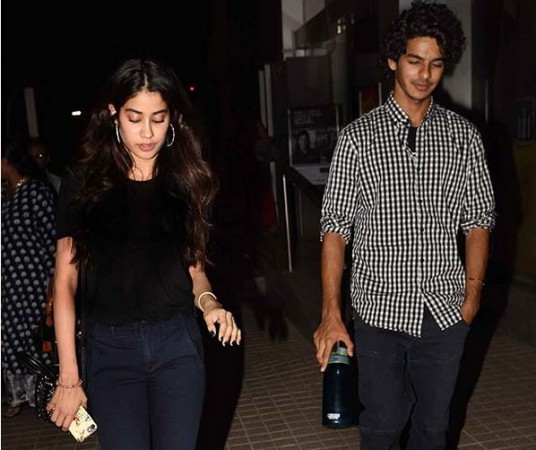 The report said further says that Jhanvi refrains from getting friendly with Ishaan, who in turn tries to be cordial with her. "At the movie screening that they attended together — a special trial of Baywatch — friends of the two newbies say, Janvi didn't even say hello to Ishaan. One feels bad for Ishaan as he comes with his friends and she with hers and both stick to separate corners at the movie halls and parties. He has tried to break ice, but Janvi is taking time to open up," the source added.
With the two unable to gel with each other, we wonder if Jhanvi and Ishaan will be able to portray their roles as die-hard lovers in Sairat remake.
Sairat remake will be Jhanvi's debut film, while Shahid's brother will make his entry in Bollywood with Majid Majidi's Beyond the clouds, the shooting of which is currently going on.