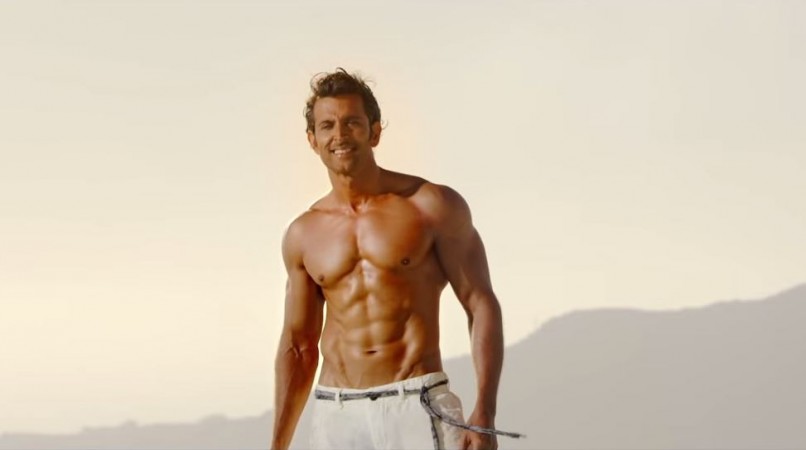 Man-of-the-moment Hrithik Roshan, in a unique promotional strategy, took to Twitter to throw "Bang Bang" dares at B-Town buds.
From Shah Rukh Khan and Sonam Kapoor, to Uday Chopra and Dino Morea, the dishy actor gave fitness tasks to friends which are to be completed in three days.
Known for being fitness conscious, Roshan has recently said he had trapped himself in a vicious cycle of an unhealthy lifestyle. Addicted to nicotine, the actor interestingly urged people to quit smoking and wrote that it takes only three days to get off it.
Under the hashtag of #BangBangDare, the actor very cleverly promoted his action-packed thriller on social media.
Here are the tweets:
"The 10pack #bangbangdare @iamsrk show us a pic doing ur fav ab exercise!all want 2 know which 1 it is! U hv 3 days! Qabool?."
"My #bangbangdare 2 khoobsoorat @sonamakapoor A collection of ur happiest craziest smiles on dsuper success of khoobsoorat!! Dis 1we deserve!"
"To d muscleman @DinoMorea9 your #bangbangdare - 20 parallel bar dips! 1 set!! U have 3 days!! Do u accept?"
"Now d ultimate #bangbangdare 2 al d smokers out der! No smoking for 3 days.dats d time it takes nicotine to exit your system! DO IT!!"
"I'm taking this forward - my #bangbangdare to @udaychopra - 100 body weight pull ups (in 5 sets)!! U game ? U have 5 days! Time starts now!!"
Interestingly, looks like Nargis Fakhri's Twitter post, in which she bats for healthy lifestyle and a no-sugar regime for eight days, has triggered the #BangBangDare.
The actress wrote, "Living a healthy lifestyle is not easy. It takes will power to stay away from yum bad stuff. 8 days No coffee & No Sugar! I Dare YOU 2 Try!."
Scheduled for a 2 October release, the Siddharth Anand directorial will reunite Roshan and Katrina Kaif on the big screen after Zoya Akhtar's "Zindagi Na Milegi Dobara". Peppered with high-octane action sequences, this action thriller promises to be a roller-coaster ride.