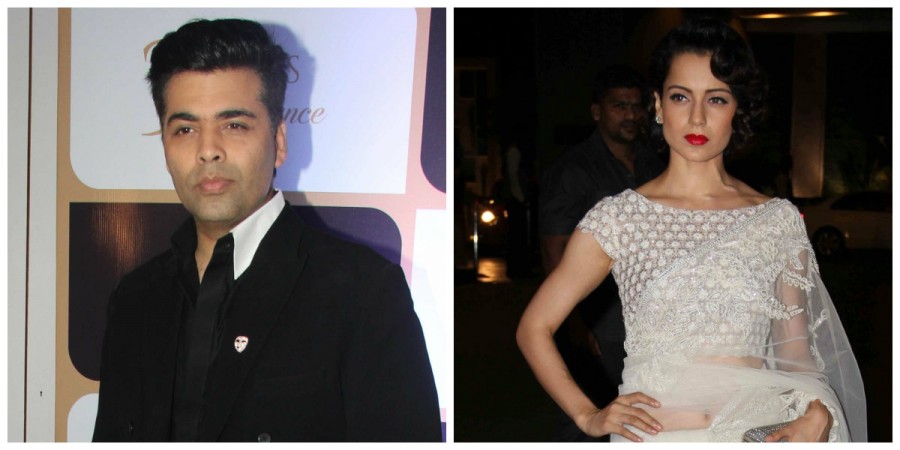 After over seven months of their fight - Kangana Ranaut and Karan Johar were under the same roof on Thursday night.
According to Mumbai Mirror, KJo had arrived early for the Jio MAMI film festival and was seated at one end of the third row, while Kangana came in 15 minutes later, and was seated at the opposite end of the second row.
The duo was caught in the same frame as they walked up to the front row to greet Nita Ambani. Afterwards, Kangana walked past KJo and hurried towards the exit and they didn't exchange any words.
Well, well, thank god for that!
For those who don't know, Karan said that Kangana plays the victim card often and should quit the industry if she can't take it, but there have been a lot of times when the filmmaker, too, has used the same argument in his favour. He even launched an entire book, which is so dramatic that it is no less than a victim card.
On the other hand, Kangana has been cheered for humiliating the show's (Koffee With Karan 5) host on national television.
People (especially who think they are feminists) supported the Rangoon actress' statements of nepotism that she has made with sarcastic undertones.
While Kangana has been lauded for being outspoken, Karan has been slammed for speaking his mind. True, KJo is a living example of practising nepotism in the industry, but he has also promoted good talent. But if he had not launched them, don't you think someone else would have?
Recently, Hrithik Roshan put his heart out and spoke about the trauma he went through in all these years after the Kangana Ranaut controversy. And a lot of B-Town celebrities like Karan Johar, Farhan Akhtar (he penned an open letter), Twinkle Khanna, Yami Gautam and many more supported the actor on social media.
And a few days back, Hrithik was seen at Farhan's residence along with Karan Johar, Farah Khan Kunder, Zoya Akhtar and other close friends.
We wonder what Kangana has to say (react) on this!