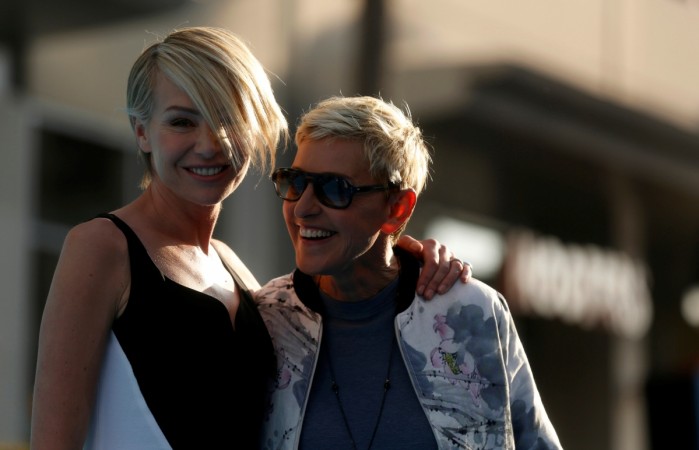 Divorce rumours surrounding Ellen DeGeneres and Portia De Rossi refuse to die down. Despite the TV show host putting an end to these baseless reports on several occasions, another rumour suggesting that the couple is headed for a split has surfaced online.
Sources are now claiming that the couple got into a nasty fight recently and as a result, Ellen has purchased a property to get away from her wife.
Also Read: Ellen DeGeneres faces Twitter backlash over Katy Perry birthday tweet
The claims have been reported by Star Magazine. Referring to her $20 million beach-front mansion in Santa Barbara, the magazine claims that it was purchased so that Ellen had a place away from Portia.
"Ellen bought the house right after she had a huge blowout fight with Portia. It seems Portia told Ellen she was sick of taking a backseat to her career and accused Ellen of paying more attention to her show than to their marriage," an alleged source claimed.
That's not all! The source has also alleged that Ellen and Portia have been living separately for a while now. "Ellen has been isolating herself. As soon as she finishes work, the turns off her phone, retreats into her own little world and doesn't want to talk to anyone, including Portia. Sadly, they seem caught in a downward spiral. They're both being stubborn, and that's only driving them further apart," the dubious insider claims.
Apparently, things have gone so bad that Ellen is on the verge of "filing divorce papers," and the couple could be headed for a "$400 million divorce."
Are the couple, who have been giving us relationship goals for nine years, really headed to different paths? No, clarifies Gossip Cop. The website debunks the claims and sources confirm that these are "ridiculous" rumours.
Over the past few months, these rumours have been on the rise. The last time these rumours reached the roof, Ellen shut it down by sharing the sweetest picture online. She told, "Being her wife is the greatest thing I am."
On several occasions, Ellen has gushed about her beautiful partner, proving that they are madly in love, even nine years after their marriage.