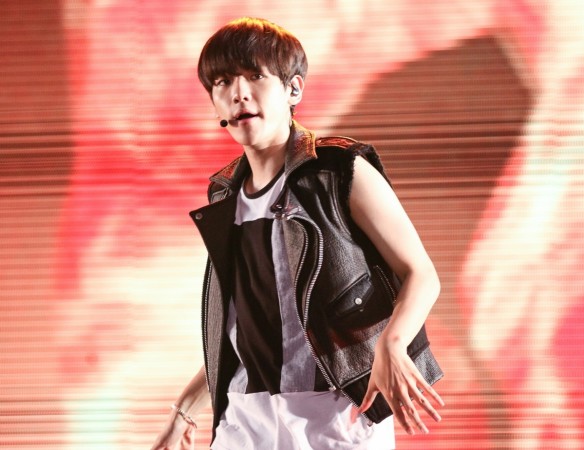 It's been a while since actor Ji Soo and EXO leader Suho shared screen space together. But the two still have a close friendship, according to the "Doctors" star.
In his recent appearance on SBS's "2 O'Clock Escape Cultwo Show," which aired on Saturday, June 11, the 23-year-old star said: "We do still contact each other, even now." Suho and Ji Soo appeared in "One Way Trip," an action/adventure film that chronicles four friends' road trip across Korea.
The actor now seems to have developed another budding friendship with an EXO member. In the actor's own words, he and Baekhyun are really good friends. The two, who are currently working on "Scarlet Heart: Ryeo," play the role of brothers in a K-drama that' set in Goryeo Dynasty. The period drama is set to air in August 2016.
Although Baekhyun is still working on "Scarlet Heart: Ryeo," he is also seen taking part in a number of promotional activities for EXO's third studio album, "EX'ACT." Recently, he was part of a performance centered on EXO's comeback in 2016.
Admittedly, the band seems to be euphoric after their latest album's tracks grabbed the #1 spot on various music streaming services such as MelOn, Genie, and BugS, according to Soompi. However, there already seems to be a controversy surrounding EXO's new album.
According to an Allkpop article, EXO's fandom, which calls itself EXO-L had a raging argument with fans of another K-pop band, BTS. The article pointed out that the two fan groups argued over the similarities in BTS's track "Dead Leaves" and EXO's "They Never Know."
But the fight resolved fairly quickly with both fans groups coming to the conclusion that BTS and EXO sampled a song titled "Deadroses" by American artist Blackbear.
Allkpop quoted one member of EXO-L as saying: "I thought we'd be fighting like crazy by now but ARMY are covering for us... Thanks, and sorry about the time some small part of EXO-L tried to call you out for plagiarism... Thanks for listening to EXO's songs."