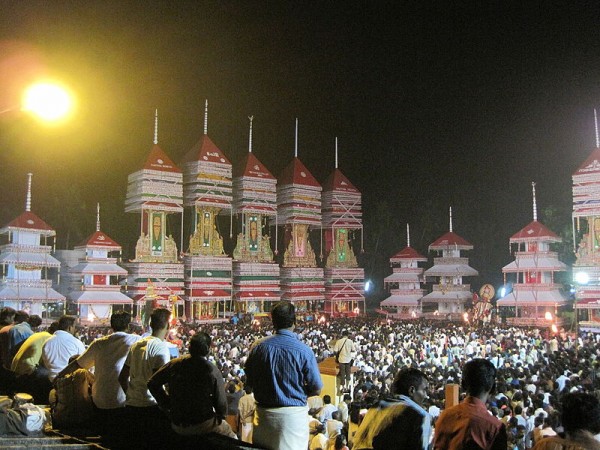 The Kerala High Court on Tuesday directed a temple to stop conducting Chooral Muriyal, an age-old tradition which has been at the centre of a controversy at the Chettikulangara temple in Alappuzha district. The tradition was supposed to be held on Thursday.
The HC said that the final hearing will take place after a few days, which in turn will give the temple authorities more time to furnish "more information". It may soon be a legal offense.
What is Chooral Muriyal?
It is practiced to please temple deity Bhadrakali, who in turn blesses the devotees and fulfills their wishes. The origin of the practice, which is a part of a larger ritual called Kuthiyottam, is not clear.
It is said that one of the kings who wanted to please goddess Bhadrakali began this tradition. The king had offered prayers to the deity and Badhrakali was so satisfied with his devotion that she granted the king a boon. The king asked for perpetual prosperity for his subjects. Legend says that the goddess then asked the king to find a male child, educate him and then sacrifice him at the age of 10.
According to reports, the blood was needed to be sacrificed to the deity in order to appease her. Since then, the practice has undergone several modifications.
In this practice, either side of the midrib of minor children, dressed as kings, is pierced with a needle and a gold or silver thread.
Picture of two children (decked up with traditional cap and plantain leaves) used for Chooral Muriyal in last March as part of Kuttiyottam offered by film star-turned Rajya Sabha MP Suresh Gopi. pic.twitter.com/I7y5VECVMP

— T Sudheesh (@sudheeshdc) February 12, 2018
It is sometimes tied to their necks, reported The News Minute.
The children are then made to dance with their hands in the air to traditional musical instruments. The procession sometimes takes hours to reach the temple, where the threads are pulled out and offered to the god.
The thread inserted through the children's bodies causes them immense pain and bleeding.
The practice is seen as a torture to young boys by many like the Kerala State Commission for Protection of Child Rights (KeSCPCR).