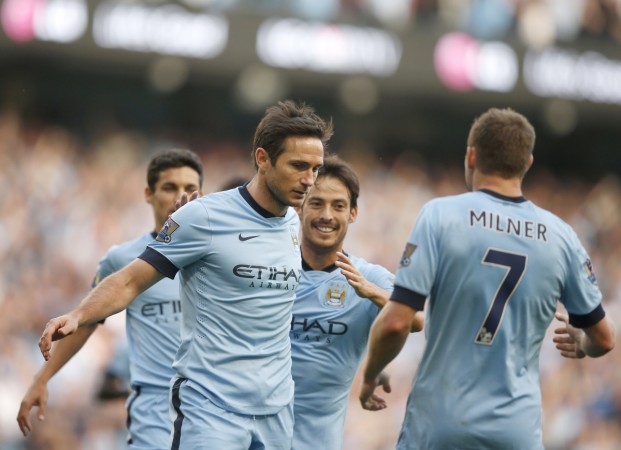 Chelsea fans would have rubbed their eyes in disbelief when club legend Frank Lampard entered the field against them at the Etihad on Sunday, replacing his new Manchester City teammate Aleksandar Kolarov.
But even the most ardent of the Blues faithful acknowledged what the Englishman has done for the west London club and applauded as he took to the field.
However, the initial disbelief at seeing Lampard playing against Chelsea would have been nothing compared to their shock, when the midfielder connected his side foot to a James Milner pass, to put 10-man City level with Jose Mourinho's men.
What followed at the fulltime whistle was a string of apologetic gestures by Lampard, towards the Chelsea faithful present at the Etihad, and a post-match interview where he almost burst into tears.
Chelsea manager Mourinho stated he did not believe in such club-player "love stories" and stressed that he was a bit more "pragmatic" about things concerning football.
However, one cannot help but think that the the Blues management might have gotten it wrong with the Englishman, who has scored more than 200 goals for the club and is their record goalscorer.
Yes, Lampard is 36 years old, and might have lost a bit of his legs over the past couple of years. However, the kind of player that he is, his ability to get into the box at just the right time, is tremendous, as he showed against Chelsea on Sunday.
If you take a look at the all time Premier League top scorers' list, Lampard is right up there in the fifth position, with 172 goals. His name is surrounded by the likes of Wayne Rooney(175), Thierry Henry (175), Robbie Fowler (162) and Michael Owen (150) on either side, with Alan Shearer (260) leading the list.
Also, Lampard is the only midfielder in the top 10 of that list. The next midfielder on the list is his former England teammate and Liverpool captain Steven Gerrard (112) at 17th place.
So why did Chelsea sell Lampard? It is widely believed that the Blues did not want to pay him as much as before because of his age. In a way, they were perhaps right as the 2013-14 season was the first time, in almost a decade, that Lampard failed to score 10 or more goals in the Premier League.
From the 2003-04 season to the 2012-13 season, Lampard's scoring rate was 0.39 goals per game, while his scoring rate in the 2013-14 season was only half of that - at 0.2 per game. Yes, Chelsea's seasoned warrior was finally showing some wear-and-tear.
However, one crucial feature of Lampard's game the Chelsea management might have missed out is his ability to sniff out even the slightest chance of a goal, that too from deep midfield. Also, the goal that he scored against Chelsea (regardless of all the emotions surrounding it) was exactly the kind of crucial goals that Chelsea would have been looking to get out of the 36-year-old, had they kept him.
However, City seem to have brought in Lampard's goalscoring ability from midfield. With the firepower the Citizens have up front, in the form of Edin Dzeko and Sergio Aguero, they are expected to score anyway, along with help from midfield regulars such as David Silva, Yaya Toure, Jesus Navas and Samir Nasri. However, Manuel Pellegrini now seems to have found the perfect way to utilise the ex-Chelsea man also in his side - to break down tight defences, in crucial situations.
With the vast experience that Lampard has, he knows exactly where to be, and what to do in and around the box, as well as be a creative influence outside it. In City's equalising goal, Lampard used his experience to fool Branislav Ivanovic, who was marking him in this bit of open play, and make a free run into the box.
The midfielder made a semi-circular run around the Chelsea right-back. Ivanovic initially thought that his former teammate is tracking back, and so turned his attention away for a second. John Terry, who has played with Lampard since their formative years at West Ham, realised the danger, and slid in to block Lampard's shot but was fraction of a second late.
Lampard might not have the legs to do this week-in, week-out throughout 90 minutes anymore, especially not in the English game. However, when brought on from the bench for the last few minutes, he could make a big impact in the game. Chelsea might have sold an "ageing" player but City seems to have signed an experienced match winner - at least till January.