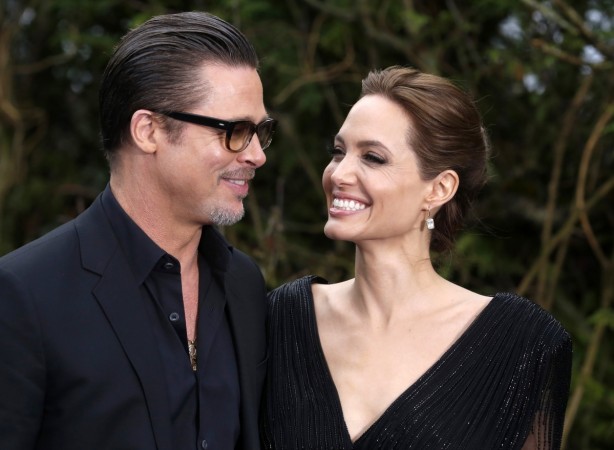 Brad Pitt in a recent appearance showed up with an all-battered, bruised and banged-up face. Well, before you jump to conclusions and think that a filming accident occurred on the sets of "Fight Club," let us tell you, it was just a fall while the actor was running in flip flops in a dark room.
But the 51-year-old actor cheered himself during a family outing with his six-year-old twins Knox and Vivienne in Los Angeles on Sunday, stylishly hiding his injury. And it was not just to cheer himself up, the actor was also excited about his wife, Angelina Jolie's return from New York City.
The "Fury" actor apparently bought doughnuts for breakfast on Sunday morning to celebrate Jolie's return from The Big Apple, where she spoke about the ongoing Syrian crisis at a UN Security Council meeting on Friday. The "Maleficent" actress, an official ambassador for UNHCR, slammed the West's inaction in Syria, calling it "the lowest point in the world's inability to protect and defend the innocent."
"It is sickening to see thousands of refugees drowning on the doorstep of the world's wealthiest continent. No one risks the lives of their children in this way except out of utter desperation," the actress said.
Back home, her hubby, who was all excited to welcome the actress was spotted with the twins picking up boxes of doughnuts. The actor very stylishly managed to hide his injury. "Brad hid his injury behind dark sunglasses while stepping out in a hoodie jacket, T-shirt, loose-fitting sweat pants and sneakers," Daily Mail reported.
He definitely was in high spirits and the kids also looked very happy with their daddy. "The husband of actress and director Angelina Jolie balanced two boxes of sugary treats in one hand as he directed his kids back to their car. Knox and Vivienne both held onto their Nesquick-flavoured milk drinks and they appeared to be in good spirits during the errand with their dad," the report further stated.