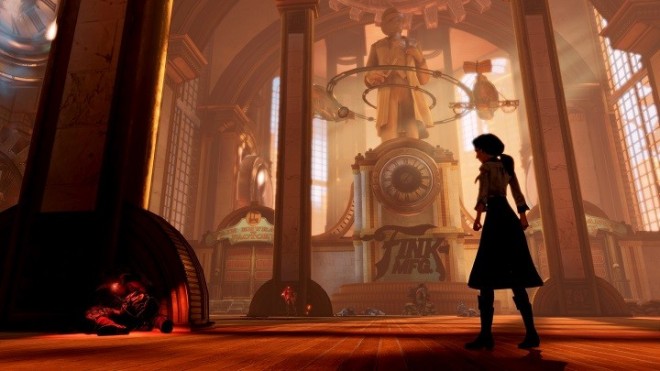 The BioShock series is all set to make a come-back if the teaser from 2K is to be believed. 2K United Kingdom made this surprise tease that is hinting at an announcement for the BioShock video game.
It posted the tweet with the message "Oooo, what COULD this mean?!"
Oooo, what COULD this mean?! pic.twitter.com/P93Nl643SU

— 2K United Kingdom (@2KInternational) July 24, 2014
This tease is out considering Irrational Games, the creator of BioShock has shuttered down early 2014.
The image in the tweet shows Eve asking players to "come bite the apple!" Though it is a clear reference to the Biblical story of Adam and Eve, there is a BioShock significance for it too.
BioShock Wiki says Eve's Garden is an exotic dancing venue in Rapture's Fort Frolic, which was reportedly featured in the original BioShock.
However, apart from the above details, 2K has kept us in the dark about any other details. Before the Eve tweet, 2K sent a tweet saying "#Discuss."
We do not yet know if 2K was teasing us a remastered next-generation version of the first BioShock game or if it could be new game altogether.
In May, Strauss Zelnick, the CEO of 2K had said that, "We haven't talked about what's going to happen to the franchise, but it's beloved."
BioShock Infinite: Burial at Sea Episode 2 was released in March 2014. Also, BioShock was announced for PS Vita during the E3 2011, but the development of the game on the platform never took off.
Ken Levine, creator of BioShock had previously said he had not given up hope for the Vita edition. He had also told that there must be a deal made between 2K Games and Sony for the Vita edition to be possibility.
2K has not refused to comment on the issue. It is well known that Vita did not perform well in sales and this might result in the game not materialising for Vita.
Levine tweeted saying, "on the Vita game: 2k and sony couldn't put a deal together when I last checked. They seemed way more optimistic about this back in 2011."
BioShock Infinite was released on 26 August 2013 for PC, Mac, PlayStation 3 and Xbox 360.