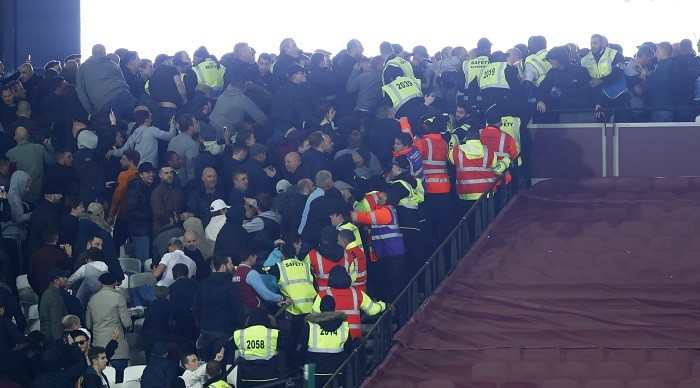 A fantastic game between West Ham and Chelsea that ebbed and flowed one way and then the other was marred by crowd trouble as the London Stadium crowd came under scrutiny for all the wrong reasons again. The EFL Cup fourth round match ended 2-1 in West Ham's favour, but, unfortunately, the crowd trouble towards the end of the match left a bad taste in everyone's mouth.
With the game headed West Ham's way, the Chelsea fans were making their way out from the Sir Trevor Brooking Stand when trouble came calling.
As the away fans were making their way to the exit, some of the West Ham supporters came towards them and with the stewards were unable to control the situation. And once a bottleneck formed, it all got out of hand pretty quickly.
It was extremely unfortunate too, because this was a game that had everything – goals, excitement, end to end action and cracking goals.
"This game deserves to be talked about a little bit more," West Ham manager Slaven Bilic said. "It was a London derby, there were great goals – three-quarters of this [press conference] should be about the game.
"For the second question to be about this – it is unfair.
"I can say only that I noticed it. But I was more concentrated on telling Aaron Cresswell not to watch it and to watch the game. Whatever happened, we are totally against it, as a club. For those kind of things to happen, especially in England, is unacceptable."
Both West Ham and Chelsea condemned the fans' behaviour and said anyone identified on the CCTV cameras would be banned for life.
"The club unreservedly condemns the behaviour of the individuals involved," West Ham said in a statement. "Whilst quickly brought under control, the club, in line with its clear zero tolerance policy, will work closely with London Stadium 185, the Metropolitan Police Service and Chelsea to identify all involved.
"London Stadium is fitted with a state of the art CCTV system which provides HD footage of every area of the ground and has led to the successful identification and subsequent banning of 23 individuals already this season.
"Once identified, those found to have acted improperly will be banned from attending any West Ham United fixtures for life and we will request the courts serve banning orders to prevent these individuals attending any other football."