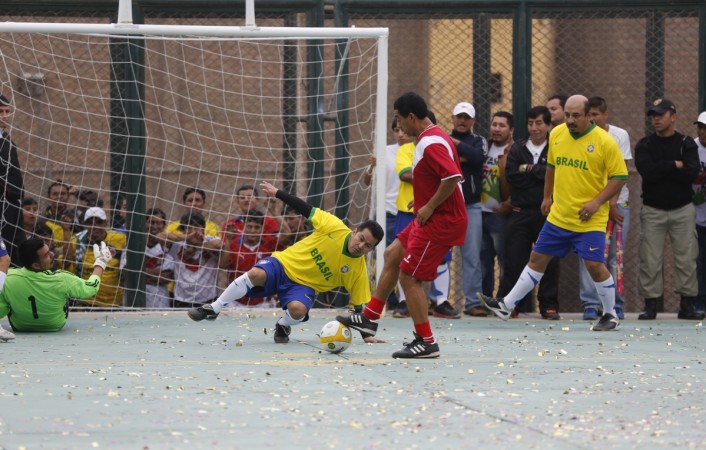 A serial killer and an abductor are few among the 36 prisoners who have formed a team, registered under the name "West Bengal Inmates Sports Club", to compete in the North 24 Parganas District Football league tournament in West Bengal on Monday.
The West Bengal Correctional Department feels this is a unique initiative to "correct" the criminals.
The high profile prisoners in the team include Robin Mallick, a serial murder convict who has appealed against capital punishment at the Calcutta High Court; Mukesh Singh, accused in the Roma Jhawar abduction case; Somnath Mistri and Jagannath Naskar, abduction and murder convicts; and Piyush Biswas, who was convicted in Kolkata Police Sergeant Bapi Sen's murder.
"Yes, they're all high profile prisoners but at the same time they are all human beings. But at the same time they are all governed by the West Bengal Correctional Services Act, 1992. It's about reforming them and making them acceptable to the society that's the main objective," Adhir Sharma, ADG (Prison) told PTI.
According to Sharma, the inmates are aged 25-30 years and are young to be rehabilitated from their past life.
"It's how you look at life even a glass of water is always half-full or half-empty! It's about implementing the Act and not just hang a signboard and ask them to follow it. Under the Act, they can participate in cultural activities and a sport too is one of them," Sharma pointed out.
The team was formed three years ago, and they have played at the East Bengal ground previously. The prisoners have not showed any unacceptable action while they are on the field so far.
"There's always been tight security but we've not faced any trouble so far. We give them some hours of parole to play outside and their families also come at times," Sharma added.
The tournament is a two-month affair. The team will compete among five teams in their group and will play their first fixture against home team Agarpara Krira Sanstha.
The team trains two hours everyday at the Dum Dum Correctional Home under the supervision of coach Mihir Das.
"Recently, we played against Army side in Fort William and at the East Bengal ground. They feel very happy to come out of the confinement of four walls and perform in the field even as it lasts for a couple of hours!" Das said.
"My objective will be filled if they're reformed through football and society accepts them as normal human beings. After all they all are repentant of the heinous crimes theve committed and desperately want to return to normal lives."