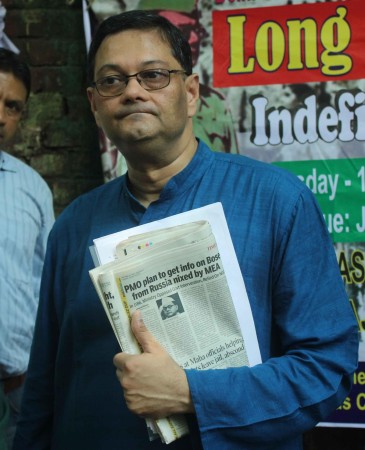 The Bharatiya Janata Party (BJP) has fielded Subhas Chandra Bose's grandnephew Chandra Kumar Bose as its candidate to contest the 2016 assembly elections against West Bengal Chief Minister Mamata Banerjee from the Bhabanipur constituency, according to reports.
"Chandra Kumar Bose ji is the grand nephew of Netaji Subhas Chandra Bose, and grandson of Sharat Chandra Bose and it is with permission of my national president Amit Shah, it is my privilege and my honor to announce that in the forthcoming assembly election of Bengal, Chandra Kumar Bose will be the Bharatiya Janata Paty's candidate against Mamata Banerjee," ANI quoted Union Human Resource Development Minister Smriti Irani as saying.
"The time has come to bring about a change in West Bengal which will be brought by the BJP. This is not my fight. This is the fight for development in West Bengal," 55-year-old Chandra Kumar, who officially joined the BJP Jan. 25, said.
The Congress will field Jadavpur University professor Om Prakash Mishra against Banerjee.
The West Bengal chief minister had on March 4 announced the full list of candidates of the All India Trinamool Congress for the upcoming 2016 assembly elections. She had also declared that TMC will contest all the 294 seats alone; the Congress was the party's ally in the 2011 assembly polls.
The TMC has increased the number of women candidates to 45 from 31 in the last polls, Banerjee announced. Similarly, the number of minority candidates has been increased to 57 from 38 in 2011.
The full list of candidates and their respective constituencies is available on Elections.in. The assembly elections in West Bengal will be held in six phases, starting from April 4.