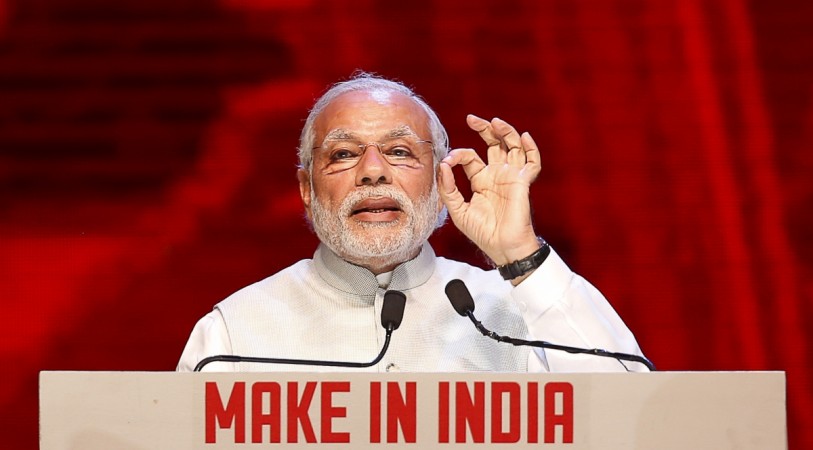 Prime Minister Narendra Modi began the Bharatiya Janata Party's (BJP) election rally in West Bengal Sunday with multiple jibes aimed at the incumbent Chief Minister Mamata Banerjee. Modi said Banerjee had changed from her beloved position of "didi" to a "shahenshah" (emperor) who does not care about the state.
Banerjee-led Trinamool Congress (TMC) was recently hit by a controversy, with a string of videos, part of Narada News' sting operation, showing TMC leaders accepting bribe. Prior to that, the party was mired in corruption charges in the Saradha scam, cases under which are ongoing.
"Five years back, I had been hearing of 'poriborton' (change). I also thought change will come (in West Bengal). Change did come, but it came in didi's nature, her motives, her manner of work. But there was no change in Bengal. The opposition leader who used to fight on the streets, that Mamata didi changed so much that she does not care for anybody, she has become a shahenshah, such change is not what is desired in democracy, [sic]" Modi was quoted by IANS as saying at a rally in Kharagpur.
He also said the only industry flourishing in the state was that of bomb-making — a jibe at the multiple crude bomb explosions in the state that have killed at least a dozen people.
Taking forward his slogans from the 2014 Lok Sabha elections, Modi said: "Development, development at a fast pace and development from all sides is my three-point agenda."
The prime minister also targeted the Left parties, saying their coalition's 34-year rule had destroyed West Bengal, but the TMC had finished off the state in the last five years. Targeting the Congress, he said while it and the CPI(M) are fighting in Kerala, they have "joined hands" in West Bengal. He was quoted as saying by Hindustan Times the alliance between the two parties was a "challenge to the wisdom of Bengal."
Modi was quoted by Zee News as saying there have been no graft charges against his party since they came to power.
In a show of secularism, Modi also stopped his speech when the call of Azaan was heard during his rally, Hindustan Times reported.