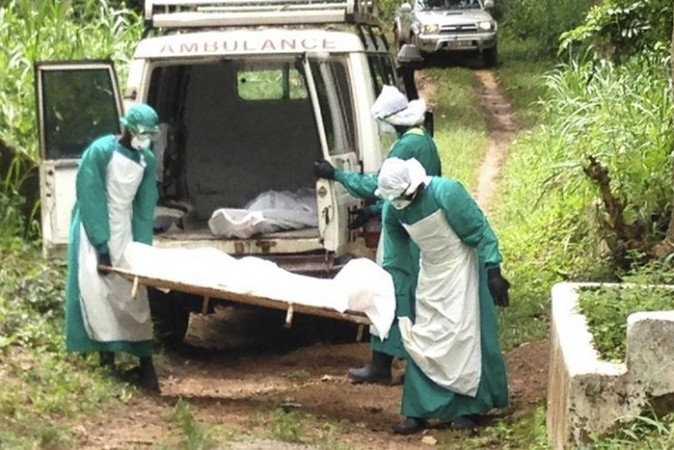 British health officials have put new guidelines in place for hospitals across country, asking doctors and health professionals to keep an eye on symptoms of the killer ebola virus in among patients.
The alarm was raised in Britain after World Health Organisation (WHO) announced the Ebola Virus Disease (EVD) outbreak in Guinea, Sierra Leone and Liberia.
Doctors in the UK have also been sent new guidelines on how to deal with suspected cases of the virus, which kills nine out 10 people it infects.
Even though health officials claim that the risk is slight in the UK, concerns are being raised over people returning after visiting their families in west Africa, and Sierra Leone in particular.
Influx of visitors from the region this month for the Commonwealth Games in Glasgow is also matter of concern for the authorities.
"The virus appears to be stable but there's a huge family of fever viruses and there's always a chance of a mutation," Professor David Haymann, head of global health security at the think-tank Chatham House told Metro.
Since it was detected in February in Guinea, the virus has killed 467 people in total and spread to the neighbouring Liberia and Sierra Leone. EVD has no cure and the 2014 outbreak is termed as the worst till date.
In a recent, a US citizen has been quarantined and is being tested for Ebola virus in Ghana. The man is believed to have visited Guinea and Sierra Leone in recent weeks, BBC reported.
Ebola Virus WHO Fact Sheet
Ebola first appeared in 1976 in Democratic Republic of Congo's Yambuku, a village situated near the Ebola River, from which the disease takes its name. Hundreds were killed as the disease spread.
EVD has a 90 percent fatality rate but the disease outbreak occurs primarily in remote villages in Central and West Africa, near tropical rainforests. The virus is transmitted to people from wild animals and spreads among human population, through human-to-human transmission.
No cure has been found for the disease till now.