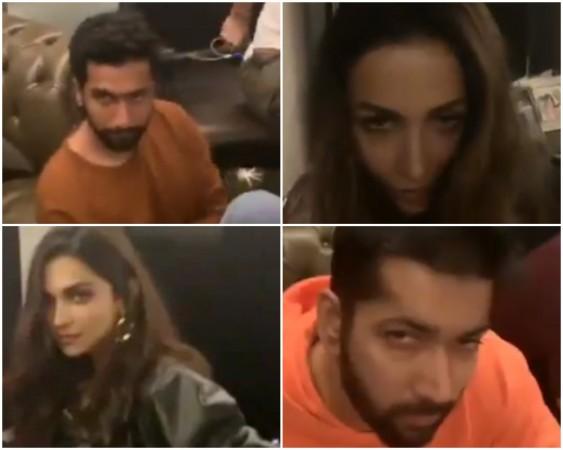 A video has been doing the rounds on social media that has raised serious allegations about top Bollywood stars. Shot by Karan Johar at his party, the video features stars like Deepika Padukone, Arjun Kapoor, Vicky Kaushal, Varun Dhawan, Malaika Arora, Shahid Kapoor and Ayan Mukerji, among others.
The video shows all of them partying with some music in the background. After watching the video, many people on social media began wondering if most of the stars like Deepika, Malaika, Varun, Vicky and Ranbir were possibly in a 'drugged state'.
One popular Twitter handle shared the video with the caption that read, "And these drug addicts are role models of millions."
Although there is no solid proof that these celebs were under the influence of drugs, they are being called "hypocrites" as many of them including, Varun, Vicky and Arjun, have campaigned against drug abuse.
SAD (Shiromani Akali Dal) MLA Majinder Sirsa too tweeted the said video and said, "#UDTABollywood - Fiction Vs Reality. Watch how the high and mighty of Bollywood proudly flaunt their drugged state!! I raise my voice against #DrugAbuse by these stars. RT if you too feel disgusted."
However, former Telecom minister, Milind Deore rubbished the claims about the Bollywood celebrities being in a 'drugged state' saying that his wife was also present there. He even tendered an unconditional apology from Sirsa for spreading 'lies' and defaming people whom he doesn't know personally.
"My wife was also present that evening (and is in the video). Nobody was in a "drugged state" so stop spreading lies & defaming people you don't know! I hope you will show the courage to tender an unconditional apology," Milind Deore replied to Sirsa's tweet.
My wife was also present that evening (and is in the video). Nobody was in a "drugged state" so stop spreading lies & defaming people you don't know!

I hope you will show the courage to tender an unconditional apology https://t.co/Qv6FY3wNRk

— Milind Deora मिलिंद देवरा (@milinddeora) July 30, 2019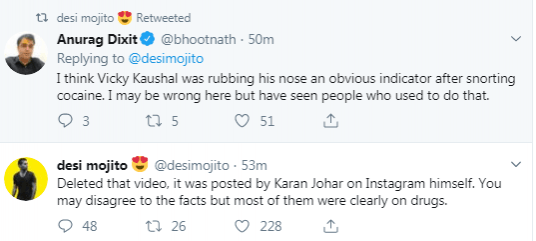 Hello @MumbaiPolice
Found a video where Bollywood stars are seen consuming illegal drugs.Req you take a a serious action & set an example for the society

If not then stop fooling "Law is equal for everyone"
Dope test is mandatory,u can't give free escape pic.twitter.com/fIwqeo4IW6

— Piyush Singh (@PiyushSingh83) July 30, 2019