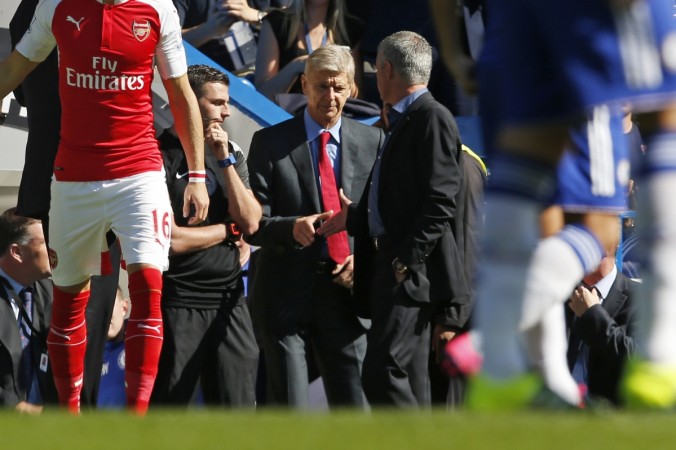 All eyes are on two brilliant football coaches -- Jose Mourinho and Arsene Wenger -- as we come to closing distance of witnessing yet another Manchester United-Arsenal showdown on super Saturday. Of course, no one -- players or coaches -- are greater than the club, but we cannot but fail to mention some brief notes on these two illustrious managers.
If it is Manchester United vs Arsenal, it is a Jose Mourinho-Arsene Wenger showdown as well!
Football is a contact sport and the amount of tackling and bad blood we see between the players on the pitch is nothing compared to the physicality we hardly notice in the sidelines. Of course, the coaches get hyper on the linesmen and throw them expletives, but that's it. Managers getting involved in pushing and shoving? Well, very rarely!
Good news is Mourinho and Wenger have already got involved in a physical altercation only recently. Can't believe us? Check out this footage below from a Premier League match between Chelsea and Arsenal, that took place at the Stamford Bridge in 2014.
Even a mere handshake between the two almost looks like a herculean task. When Mourinho was the Chelsea manager, there have been several instances where Wenger has refused to shake hands with the Portuguese manager post-match. Almost a Portugal-France war this!
The Arsenal-Chelsea rivalry over the years has spiked owing to the presence of these two particular individuals and that's a clear fact. What happens to Mourinho -- the Manchester United manager -- this time around, remains to be seen.
Check out these videos
Wenger might have respect for the legacy of Manchester United, but truth be told, even he didn't miss having his share of rivalry with legendary football manager Sir Alex Ferguson, which could be referred to as being more serious than the Frenchman's rivalry with Mourinho.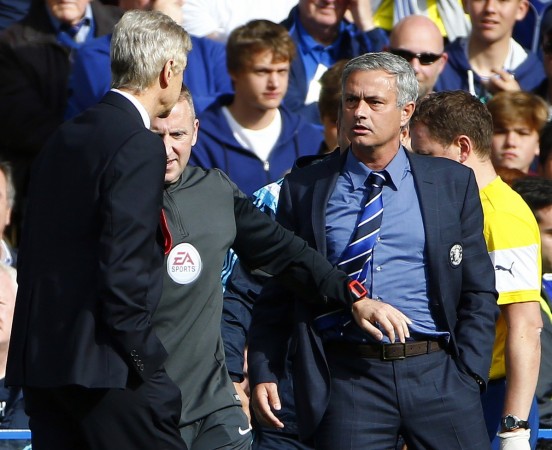 I don't think I have to describe our relationship. He will fight for his team and I will fight for mine and that is normal. Of course I will shake his hand. I will respect the ritual in the Premier League. I have won against every manager in the world, but it's not between two managers, it's between two clubs.

It's not the controversy that makes the audience, it's the quality of the game. It is a top level game and will be watched all over the world.

- Arsene Wenger on Jose Mourinho ahead of November 19, 2016 showdown
When it comes to head to head records, well, Mourinho better bring his entire invincibles army to overturn his record against Wenger. Over 15 meetings in all competitions, Wenger has won just one game against the Frenchman.
A tale of the tape is something which is unheard of in football. It's a phrase associated with combat sports. Nevertheless, with the bad blood we have seen between the two over the years, it won't be too disrespectful if we put up a comparison of both these highly established football managers. Don't expect too many details like the reach and strong hands or stuff like that, we are keeping everything football over here.
Tale of the tape
| | | |
| --- | --- | --- |
| | Arsene Wenger | Jose Mourinho |
| Age | 67 | 53 |
| Height | 1.91m | 1.74m |
| H2H | 8 wins (6 Draws) | 1 win (6 Draws) |
| Clubs managed | 4 | 8 |
| Total titles won (as manager) | 19 | 23 |