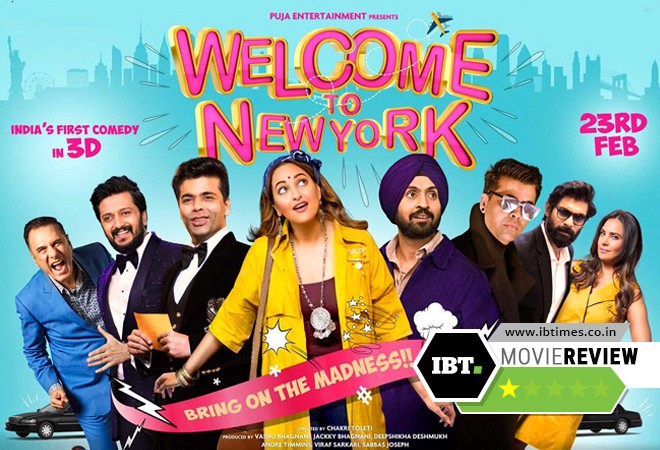 RATING:1
MOVIE: Welcome To New York
CAST: Diljit Dosanjh, Sonakshi Sinha, Boman Irani, Lara Dutta, Karan Johar, Riteish Deshmukh.
DIRECTOR: Chakri Toleti
GENRE: Comedy
When people have too much of money or no work they often end up doing things that they should not. Making Welcome to New York is a fine example. Before I go into the review of the movie, let's talk about the plot.
Storyline
Teji (Diljit Dosanjh) is a Punjabi recovery agent and an aspiring actor. Although his acting skills are no better than Kamaal R Khan, he believes he is a born actor. On the other side, Jeenal Patel (Sonakshi Sinha) is a Gujarati fashion designer.
At a time when both of them find no way to follow their dreams, they get a chance to showcase their "talent" at IIFA show in New York. How they get the opportunity is a weird tale altogether that will be too much to reveal here.
Teji and Jeenal meet each other on their way to New York and are extremely excited to believe that their dreams are coming true. However, they get the shock of a lifetime when they realize that both of them were invited to the big event, not because of their "talent" but to turn IIFA a flop. Sophie (Lara Dutta), the organizer of the event plans it in order to take revenge from the head of IIFA, played the Boman Irani.
Whether Teji and Jeenal be successful in proving their mettle is the crux of the film, but Welcome To New York includes several other characters that make it a "masterpiece".
Karan Johar's pathetic comedy
Karan Johar plays his own self in the movie, and he is the most irritating part of the horribly unfunny film. All through the film, he is seen bragging about his Armani(s) and Prada(s). Although KJo is a much witty guy in real life as we see, his on-screen comedy is pathetic.
To make things even more painful, Karan has a double role in the film. Arjun is his doppelganger, who is a gangster in the foreign land, and wants to kill the film-maker. Believe it or not, the reason is Karan's romantic films! People mistake Arjun for the director and do not consider him a gangster Hence, they are they are don't afraid of him at all. I can imagine your reaction by reading this. But, I was unfortunate enough to actually watch it.
Karan plays the host of IIFA along with Riteish Deshmukh, who also plays his own self. The film also has a host of special appearances including that of Salman Khan, Sushant Singh Rajput, Arbaaz Khan, Sohail Khan, Aditya Roy Kapur, Katrina Kaif and Rana Daggubati. Why most of these cameos are included is best known to the director himself.
The stupidest things
Apart from Karan's annoying antics, Welcome To New York is filled with several stupidities. Teji is sent to an actress to showcase his acting skills as the former would judge if he is good enough. And the actress to judge someone's acting skills is none other than Katrina Kaif (sigh!).
Superstar Salman Khan finds Jeenal's designed clothes impressive and decides to wear it for the event. Okay, that is fine, but what follows is that he offers Jeenal the female lead role in Dabangg 3. A fashion designer gets an offer to become an actress, and on the other side, Teji, who wanted to become an actor, is later seen singing and dancing on the stage of IIFA.
With all these and many other silliest of things happening in the film, my mind just keeps on asking me – What? Why? How?
Performances
Diljit's performance is the only good thing in Welcome To New York. He has certain punchlines and sequences that brings some humor to the monotonous film. His comedy timing is nice. Sonakshi's character is too sorted to add much humor to the plot. Lara and Boman are fine, but Riteish again adds some color to the otherwise dull flick.
Positives
Apart from some of Diljith and Riteish's punchlines, I have nothing good to talk about this film.
Negatives
Here, I have a lot to mention. The script, direction, comedy – everything is just awful in this movie. While Karan is undoubtedly the most irritating aspect of Welcome To New York, the film has no logic, and certainly no humor.
Verdict
Welcome To New York is one movie that made me wonder if the producers had too much money to waste. Lastly, I was compelled to suffer those two hours of torture for my job, but you are not. So, don't welcome it.