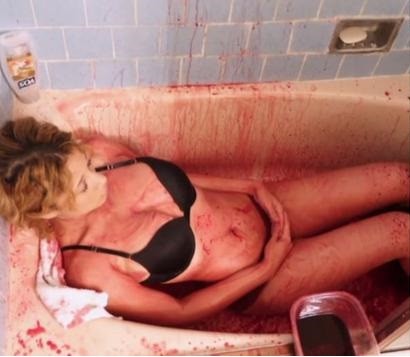 In a bid to stay young and fit, many people do bizarre things.
A vegetarian model in California, US, bathes in pig blood to rejuvenate her skin.
After spotting wrinkles on her body, the 19-year-old model began bathing in pig blood.
The freelance model revealed her skin care method in the latest episode of MTV's True Life, titled "I'm Obsessed With Staying Young".
Chanel collects the blood from local butchers and washes her face almost ten times a day.
She also claims that the method was used by many millions of years ago.
Watch the episode video HERE [Video is not available in all locations]
Check out the Photos of Chanel's Pig Blood Bath below:
WARNING: graphic content, this model thinks bathing in PIG BLOOD is the answer to good looks: http://t.co/b2Z8sVmeqk pic.twitter.com/bL8GRxTnMX

— Yahoo Lifestyle UK (@YLifestyleUK) April 16, 2015
Vegetarian model, 19, bathes in pig blood to maintain her youthful looks http://t.co/q7nYOOYEvQ pic.twitter.com/sWz9d4mR7e — Daily Mail US (@DailyMail) April 15, 2015
This girl bathes in pig's BLOOD to stay youthful... we'll stick to suds & water we think! http://t.co/tgd8g91VsI pic.twitter.com/dBF6l5fiU3

— EVOKE.ie (@EvokeToday) April 16, 2015
Model bathes in pig's blood to stay young http://t.co/b2X2gJys4x pic.twitter.com/RSX1kup89O — Deccan Chronicle (@DeccanChronicle) April 15, 2015
Watch the Teaser Video of MTV Programme below: