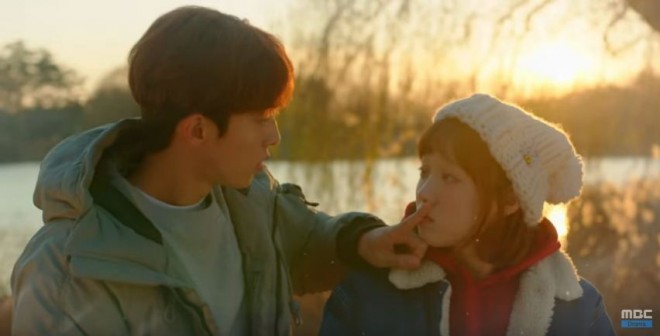 Weightlifting Fairy Kim Bok joo will be back with episode 11 next Wednesday, December 21, at 10pm KST on MBC, and it might finally feature Jung Joon-hyung confessing his love to the female lead.
But before getting into the details, here is a quick recap of episode 10, which took its viewers through a roller-coaster of events. Apart from focusing on the emotional trauma of the weightlifter, the sequel also hinted at a new love interest for Song Shi-ho.
While the entire weightlifting team was celebrating their victory, Kim Bok joo was silently crying inside her room. Although her friends tried to cheer her up, she ignored them. Things took a turn for the worst after Coach Choi Sung-eun got fired for spending university fund for personal needs.
In the meantime, Song Shi-ho decided to hang out with Kim Jae-hyun and they are seen spending quality time with each other. Will they become a power couple? Watch Weightlifting Fairy Kim Bok joo episode 11 live online on MBC next Wednesday, December 21, at 10pm Korean time to know more about it. Until then, you can watch the first eight episodes of the period drama online here.
The official trailer for the upcoming episode shows Kim Bok-joo informing father Chang-gul that she hates weightlifting, as she says, "I want to quit weightlifting." In reply, he tells her to follow her heart and do the things that she always wanted to do.
In the next scene, Jung Joon-hyung shows up at the weightlifter's house and asks, "Are you scared that your dad or uncle might see us." Later on, they are seen spending quality time with each other and towards the end of the video, he tells her, "Try to stay in town. Don't go out of my sight. Don't go too far."
Watch the promo of Weightlifting Fairy Kim Bok joo episode 11 below: