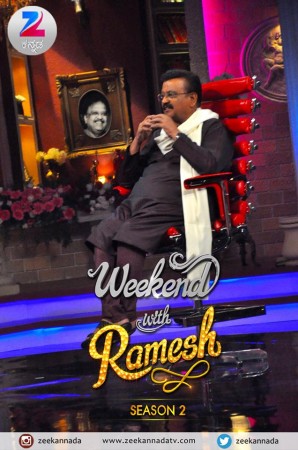 SP Balasubramaniam (also spelt as SP Balasubrahmanyam) will be the guest this week on Kannada talk show "Weekend with Ramesh Season 2." Zee Kannada has announced the news on its Facebook page.
The channel posted: "Are you all ready for a golden musical weekend with the legendary Dr. S.P. Balasubramaniam ?? Then don't miss the upcoming episode of #WWR2 on Sat-Sun at 9pm. #ZeeKannada #StayTuned — with S.P. Balasubramaniam." The latest episodes will be aired this weekend and he is the guest number 14 to be gracing "Weekend with Ramesh 2. (sic)" Last week, veteran actor Srinath had come to the show.
SP Balasubramaniam has crooned in all the major Indian languages, and is a household name in South India. In his four-decade-long career, he has lent his voice to over 40,000 numbers and holds the Guinness World Record for singing the highest number of songs.
Born in Andhra Pradesh, SP Balasubramaniam made his singing debut with the Tollywood movie "Sri Sri Sri Maryada Ramanna." Just eight days after singing his first song, he entered Sandalwood to croon a song in "Nakkare Ade Swarga." The veteran singer also ventured into Tamil and Hindi soon.
Offers have never dried up for this 69-year-old legend, as he continues to sing for films even today. In his successful career, SP Balasubramaniam, who is also popularly known as SPB, has won a large number of awards, besides being bestowed with the civilian awards like Padmashri (2001) and Padma Bhushan (2011).
SPB has crooned songs for most of the star actors and worked with leading music directors from the South Indian film industry. Apart from singing, he has acted in many movies in supporting roles.