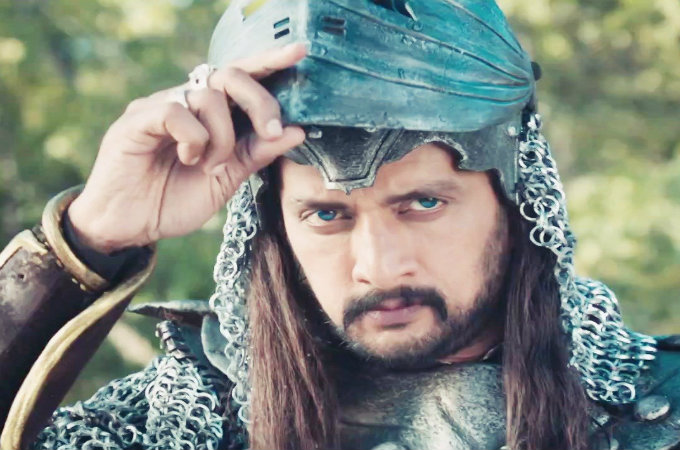 The fans of Kiccha Sudeep have been requesting Zee TV Kannada to bring him on its popular talk show "Weekend with Ramesh" Season 2. Their wish has now been fulfilled, with the channel roping in the "Eega" actor for the final episode of the Ramesh Aravind-hosted show.
Zee TV Kannada confirmed on its Facebook page: "The Grand Finale of ‪#‎WWR2 is with Kichcha Sudeep!!!" The last segment will be aired in two episodes this weekend.
Sudeep is a multifaceted personality, who made his debut as a hero in Sunil Kumar Desai's hit Kannada movie "Sparsha." Though the film was a hit, the actor was not recognised to that extent. However, it was "Huccha," the Kannada remake of the Tamil hit "Sethu," which gave him a strong foothold in the industry.
He has subsequently been a part of many successful films. In 2008, he entered Bollywood with Ram Gopal Varma's "Phoonk," and acted in a few other Hindi films, like "Rann" and "Rakta Charitra." But he got the biggest break of his career in the form of "Eega." The film was simultaneously shot in Tamil as "Naan Ee" and dubbed in Hindi as "Makkhi." All three versions were received well by the audience.
There are many incidents in his successful career that many do not know, and "Weekend with Ramesh 2" promises to reveal a lot of them.
Here is the complete list of celebrities who have appeared on "Weekend with Ramesh" this season:
Episode No.
Guest(s)
Original air date
Episode 1
Prem
Dec. 26
Episode 2
Rakshita
Dec. 27
Episode 3
Vijay Prakash
Jan. 2
Episode 4
Jan. 3
Episode 5
Duniya Vijay
Jan. 9
Episode 6
Rajesh Krishnan
Jan. 10
Episode 7
Devaraj
Jan. 16
Episode 8
Rangayana Raghu
Jan. 17
Episode 9
Ambareesh
Jan. 23
Episode 10
Jan. 24
Episode 11
Darshan
Jan. 30
Episode 12
Jan. 31
Episode 13
Sadhu Kokila
Feb. 06
Episode 14
Feb. 07
Episode 15
Srujan Lokesh
Feb. 13
Episode 16
Doddanna
Feb. 14
Episode 17
Actor Srinath
Feb. 20
Episode 18
Feb. 21
Episode 19
SP Balasubramanyam
Feb. 27
Episode 20
Feb. 28
Episode 21
Ananth nag
March 5
Episode 22
March 6
Episode 23
Actress Lakshmi
March 12
Episode 24
March 13
Episode 25
Raghu Dixit
March 19
Episode 26
March 20
Episode 27
Leelavathi
March 26
Episode 28
Rockline Venkatesh
March 27
Episode 29
Sudha Rani
April 2
Episode 30
B Saroja Devi
April 3
Episode 31
Sai Kumar
April 9
Episode 32
P Ravi Shankar
April 10