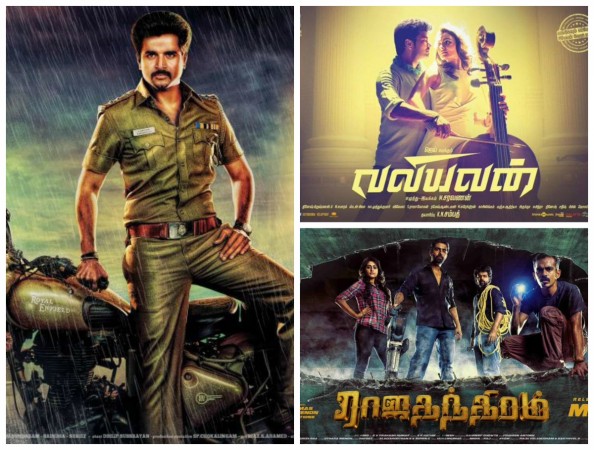 The Chennai box-office collection for Tamil movies for the period between 23 March and 29 March 2015 is out and as per the latest reports, the movie "Valiyavan" starring Jai and Andrea Jeremiah is on top, followed by "Rajathandiram" at the second position while "Kakki Sattai" starring Sivakarthikeyan continues to retain the third spot in its fifth week.
"Valiyavan"
"Valiyavan", written and directed by M Saravanan, was released on 27 March and according to Behindwoods, the movie had managed to get an above-average opening despite mixed response from critics.
The film had a total of 219 screening in Chennai city alone in the weekend and the box office reports suggest that the movie had grossed ₹67,74,439 in its opening weekend. Most industry analysts feel this was better than expected and are now waiting to see how the movie performs in the coming weeks.
"Rajathandhiram"
Of the recent releases, it's "Rajathandhiram" that has managed to strike a chord with the audience. The movie has managed to retain the second position among all the other films and is now heading for a successful fourth week. In its third week, the movie is continuing with average theatre response. The movie has grossed a total of ₹52,11,536 in its third weekend and it would be interesting to see how movie will perform with the release of movies like "Nanbenda" and "Komban".
"Kakki Sattai"
In the third position is Siva Karthikeyan's "Kakki Sattai" and the movie is continuing its steady run at the box office even in its fifth week. The movie is already declared hit in Chennai with total box office collection of the movie coming to ₹4,47,83,407. The movie has turned out to be one of the most successful in the actor's career, and he and his associates are now waiting to see if it can sustain the pressure of other big releases this summer.