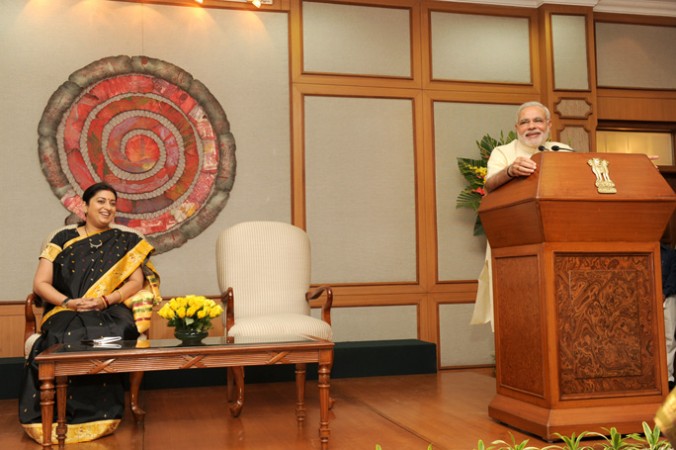 Prime Minister Narendra Modi overturned the decision taken by the Ministry of Human Resource Development -- when it was overseen by Smriti Irani -- about the appointment of Central Board of Secondary Education (CBSE) chief. The decision was also taken out of the hands of the ministry.
Irani had selected Dr. Sarvendra Vikram Bahadur Singh as the new chief of the board.
Department of Personnel & Training (DoPT) wrote to the HRD ministry, the current head of which is Prakash Javadekar, saying: "While considering the proposal, the competent authority in the ACC has conveyed that the post be filled under Central Staffing Scheme (CSS) by keeping the recruitment rules in abeyance."
The ACC or the Appointments Committee of the Cabinet is headed by the prime minister.
Singh, who belongs to the Uttar Pradesh Education Service, is the director of State Council of Educational Research and Training, the Indian Express reported. He was the top contender for the CBSE chief post, according to a letter dated June 15 sent by Irani to the DoPT.
The post, which has been more or less vacant since December 2014, requires a Joint Secretary rank officer with three years of experience in educational administration. However, under the CSS the position needs to be filled by a Deputy Secretary rank or above officer. Civil Services Board (CSB) headed by the Cabinet Secretary is required to prepare a list of candidates for the post.
The CSB then sends the name to ACC for approval.
Other people who were considered for the post of CBSE chief are Kamalakanta Biswal, professor at National University of Educational Planning and Administration, and Khurram Shahzad Noor, additional principal director in the education wing of the Indian Navy, according to the newspaper.
The ministry has now been given time till end of October to do its search and selection and send the name to the ACC.
Prime Minister Narendra Modi will have the final say in who gets chosen for the position.
Irani was recently relieved of her duties as the minister of human resource development and was instead handed the Textile ministry.