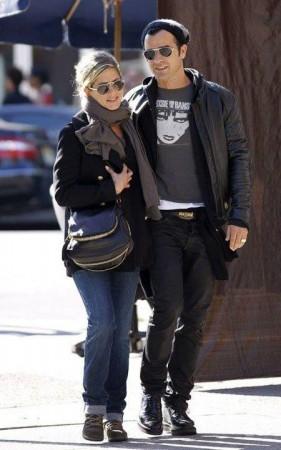 Hollywood actress Jennifer Aniston has decided to walk down the aisle again, with recent reports claiming that the "Friends" star is engaged to actor-screenwriter boyfriend Justin Theroux.
Aniston's representative Stephen Huvane confirmed the big news on Sunday night that the couple were officially engaged on the occasion of Theroux's 41st birthday.
"Justin Theroux had an amazing birthday on Friday, receiving an extraordinary gift when his girlfriend, Jennifer Aniston, accepted his proposal of marriage," the publicist told People magazine.
The announcement came four month after Brad Pitt and Angelina Jolie announced their wedding plans.
The 43-year-old actress was previously married to Hollywood actor Bad Pitt in 2000. Five years into their marriage the couple divorced, after which Pitt moved in with his then co-star Angelina Jolie, leaving Aniston devastated.
Pitt and Jolie were shooting for "Mr. & Mrs. Smith" in 2005, when the actor broke up with Aniston.
Six years after her break-up with Pitt, Aniston met Theroux on the sets of the film "Wanderlust" last May. The two then moved in together at a rental residence and later purchased a mansion worth $22 million at a Bel-Air neighborhood in Los Angeles.
Prior to meeting Theroux, the actress also dated actor Vince Vaughn, British model Paul Sculfor and singer John Mayer.
Put aside the failed relationships, Aniston is said to have put her past behind and is looking forward to a life with Theroux. "She is so in love with Justin, that she is really grateful how things turned out...In a strange way if it weren't for Angelina, Jennifer would not have connected with Justin in a romantic way," a source had said of her state in April this year, when Pitt's and Jolie's engagement news broke out.