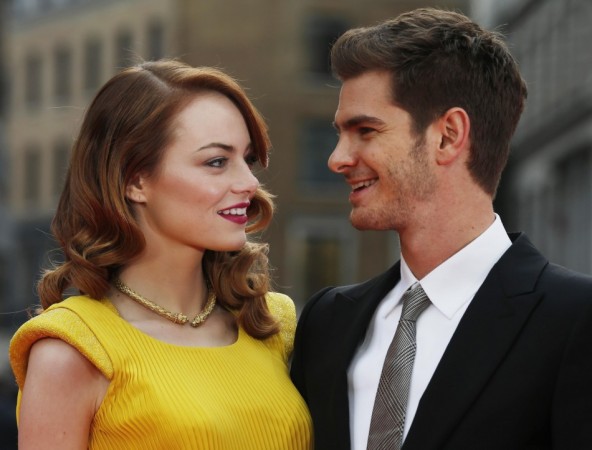 Andrew Garfield and Emma Stone are back together. And for good, it seems. The couple are reportedly planning to walk down the aisle.
"The Amazing Spider-Man" actors seem to have decided to take their relationship to the next level, after their rumoured split. Andrew Garfield and Emma Stone have been dating for about two years and during the past few weeks, they were rumoured to have split after they were not seen photographed together for a long time.
It turned out that the 30-year-old actor was on a location shoot in Taiwan for the Martin Scorsese film. But now in the last couple of weeks, the couple have been spotted together various times. The lovebirds looked romantically-happy in all those pictures.
According to a latest report, Stone and Garfield were spotted shopping for an engagement ring in New York City. The couple also went on a dinner date on Tuesday night. During their date, Stone wore a gray t-shirt with white pants and a leather jacket.
In addition to these claims, Garfield's recent interview with Entertainment Tonight further fuelled the wedding rumours.
While answering as many questions as he could in 99 seconds as a promo for his new film "99 Homes," Andrew revealed: "I have a longing to be a father myself. Being a dad is something I'd to be at some point."
Meanwhile, Hollywood Life added that Garfield is doting on Stone more than ever and wants to make sure they stay together.
"Emma is an adorable girl, and she called the shots in that relationship," a source revealed.
"She had the courage to take a break and focus on herself for a while and he went did a movie on the other side of the world. But he couldn't live without her. He called her all the time from Taiwan begging for another chance, and she gave it to him. He's been showering her with gifts and promises, but there are a lot of people that question if things will really change in the long," the source added.
Well, we just hope there is some truth in these Emma Stone-Andrew Garfield wedding rumours.