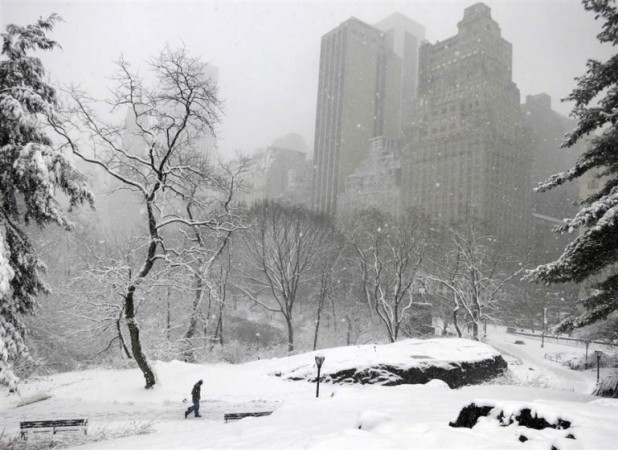 If the latest round of cold conditions in the US is creating any inconvenience to you, blame a quirky rodent called Punxsutawney Phil!
Wintery weather is sweeping through much of the US Northeast after an episode of heavy snow blizzard snarled air travel, and stranded thousands of Super Bowl fans trying to head home after the match on Monday. Fresh snow is falling in New York, New Jersey and Pennsylvania, with some areas expected to accumulate 10 inches of the slushy and wet flakes. The National Weather has issued a "Winter Storm Warning" in the early hours of Tuesday.
But some of the Americans are not very surprised by this. After all, the most famous prognosticating animal had warned you what was to come, after he appeared from his Pennsylvania burrow and returned after seeing his shadow in the early hours of Sunday.
Making his brilliant prediction in front of thousands of onlookers at Gobbler's Knob in the tiny western Pennsylvania town of Punxsutawney, located about 56 miles northeast of Pittsburgh, Phil had 'predicted' that there would be six more weeks of winter in the United States.
So here you are. The CNN reports that the northeast faces a "triple threat this week" adding that Monday's storm is only a preview of worse weather to come.
"Expect another round of winter weather Tuesday, and perhaps a bigger storm over the weekend into early next week," CNN's senior meteorologist Dave Hennen said.
Temperatures dipped below freezing overnight on Monday in the New York City, and icy conditions could be expected in streets on the sun rise.
The situation is so bad in New Jersey that Governor Chris Christie has declared a state of emergency, urging people to remain off the roads, in order to let the first responders and public safety officials successfully respond to any emergency situations.
New York Mayor Bill de Blasio also urged people to take all necessary care.
"Things are going to be messy today," he said in a news conference on Monday afternoon. "Snow is coming down faster than we can plow it. We have a very aggressive plowing operation going on, but the snow is coming down very rapidly."
As one death in New York has already been attributed to the weather, the Mayor said that the Big Apple is aggressively preparing for three storms expected this week.
On Monday, over 2,200 flights remained canceled, according to FlightAware.com, an online site that tracks flight data, while another 11,000 flights were delayed. By the wee hours of Tuesday, 546 flights were already cancelled.
This is the second wintery blast this year for the Northeast, after extreme cold and snow blizzard pummeled communities in much of the United States last month. The weather condition hit the North East just a day after the prognosticating rodent Phil had predicted six more weeks of winter; an incident that tends to add to the credibility of the animal's predicting powers.
However, the National Climatic Data Center has described Phil's forecasts as "average, inaccurate" and has said: "The groundhog has shown no talent for predicting the arrival of spring, especially in recent years".
However, the Groundhog Day organizers have claimed that Phil is accurate in predicting weather 75 to 90 percent of the time. But a study of weather data over several decades for 13 cities across Canada, on the other hand, has revealed that the groundhog's predictions were correct only 37 percent of the time.