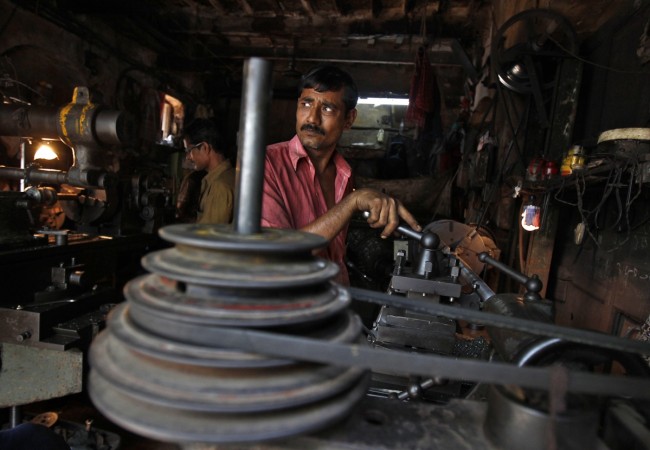 A government data released on Tuesday shows that the industrial output decelerated in June, while the inflation rate surged in the same month.
Annual growth output from mines, utilities and factories slowed to 3.4 percent in June from a revised 5 percent rate in the previous month, whereas retail inflation rate controlled by the Reserve Bank of India touched 7.96 percent in July from 7.31 percent in the previous month. In June, the inflation rate had fallen below 8 percent for the first time in over two years.
Analysts have expected that good monsoon in July in some parts of the nation could ease the food prices and bring down the pressure among commodity traders.
"We expect the progress in rains and sowings to ease some pressure on food prices in the months ahead, the RBI is likely to remain cautious and keep the policy rate unchanged," Reuters quoted Upasna Bhardwaj, an economist at ING Vysya Bank, Mumbai.
Few economists expected a strong growth in the beginning, as surge in car sales indicated strong expansion during the month. But, this data came as a surprise for many economists.
In July, consumer food price inflation jumped to 9.36 percent from 7.97 percent. Additionally, slumped output rates during the fiscal year that ended in March led to a gross domestic product growth of less than five percent for the second year.
The annual economic growth is predicted to reach about 5.5 percent in the fiscal year ending March 2015 from last year's 4.7 percent.
The Central Bank is now targeting an inflation rate of below six percent with the help of strict monetary policy, a plan that has been approved by the Finance Ministry.
Additionally, it has also decided to keep the repo rate steady at eight percent during the third bi-monthly policy review in the first week of August.
However, since the BJP-led government took charge in May, it has allowed foreign investment in defence, railways and insurance sector. Modi's government has also sought to boost capital investment through tax breaks and higher caps in manufacturing sector, which appears to have have displeased a few analysts.
"Although improving exports and manufacturing activity are expected to support industrial growth, caution is warranted as ground realities take longer to change than the actions at the top," Wall Street Journal quoted Bansi Madhavani, an economist at STCI Primary Dealer, a market maker in government bonds.