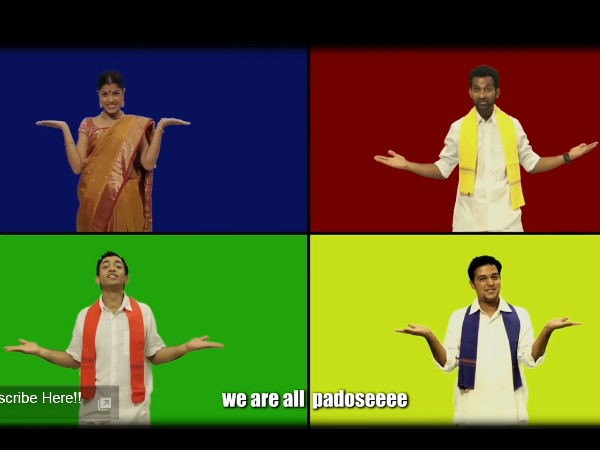 South Indians are often referred to as Madrasis, the people from Tamil Nadu, by North Indians. and the people from these states are different from each other and the region comprises of five states along with union territories Puducherry and Lakshadweep.
To tell the whole nation that all South Indians are not Madrasis, a young group of four, named "Enna Da Rascals", have made a video explaining about the states and their cultures with a bit of humour. The title of the song is – "We are not Madrasi, We are Just Padosi."
The description on their official Youtube reads, "Three men and a wo-man travel the country to educate the un-educated on the ways of the South-Indian man, the style of the South Indian man, the charm of the South-Indian man."
The song begins with the lines, "Tamil Nadu, Kerala, Karnataka, Andhra - I'm sorry spilt in two Andhra Pradesh and Telangana; Pondicherry, Lakshadweep, Yanam, Mahe, Karaikal are the union territories and the states of South India."
The video works as a guide talking about the famous identities of each state including food, politics and film. According to the team, they are paying tribute to the South of India channeling Billy Joel's Chartbuster "We Didn't Start the Fire".
The video stars Pooja Devariya (Rascal Papa), Venkatesh Harinathan (Step Step Mani), Rajiv Rajaram (Tucker Mani) and Yohan Chacko (Mallu Mani). It is written by Yohan Chacko and Rajiv Rajaram.
The song is crooned by Yohan Chacko and Anjana Raghavan, edited by Arun Prasad and photography by Vidhu Ayyanna. Nikhil Sriram has directed the video.
The video has gone viral on internet and has got about 9,00,000 hits on Youtube at the time of reporting.