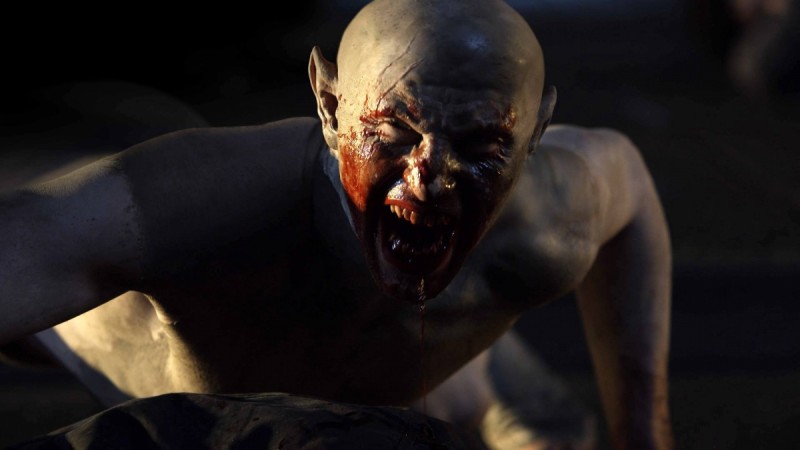 Abbies have been the biggest threat to humankind but with Megan Fisher's (Hope Davis) genius, their end could be imminent. Or at least that's what the latest instalment of "Wayward Pines," Season 2 episode 5, hints at. In "Sound the Alarm," the Idaho town's resident school teacher will display an interest in studying Abbies.
Megan's desire to examine Abbies will stem from the fact that the town has recently captured a female mutant creature. The former hypnotherapist will be intrigued by the calmness of the Abbie and this will inspire her to study more about the creature.
"There might be something anthropological. Maybe I can unearth something that can help us kill them," she says in the promo for Season 2 episode 5. But Megan will be so concerned with finding a way to kill the Abbies that she will miss an important clue.
The promo indicates that Abbies can communicate with each other telepathically. The preview clip includes scenes in which the female mutant creature looks like she's able to transmit messages to the others. Later on in the promo, two male Abbies look bloodthirsty and ready to attack. Will there be another Abbie invasion?
This seems likely. In Season 2 episode 4, Adam Hassler (Tim Griffin) foreshadowed this when he told Xander (Josh Helman) that Abbies always send a scout before they attack a place. Will Megan find a solution before they attack? This remains to be seen.
Season 2 episode 5's synopsis (via TV Guide) reads:
The creation of Wayward Pines is recalled when Rebecca thinks back to meeting with Pilcher as an architect. Meanwhile, a secret shocks Theo; Teresa reveals to CJ and Adam her desire to live outside the protected walls; and Megan experiments on a captured female.
"Wayward Pines" Season 2 episode 5 airs at 9 p.m. EST on Wednesday, June 22, on FOX. You can watch the past episodes online via FOX NOW.