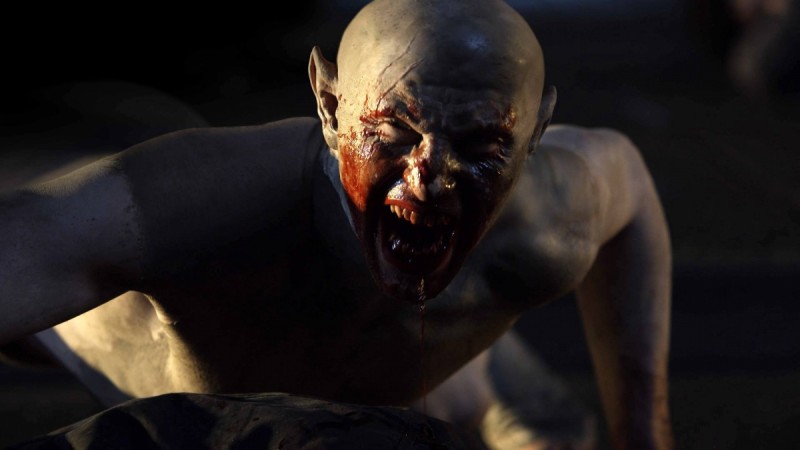 "Wayward Pines" is back and so is a rebellion, a surgeon, a theocratic government and of course, the Abbies. The Season 2 premiere of M. Night Shayamalan's hit TV series foregrounded what's going to happen in the next few episodes: an internal conflict in the Idaho town and a possible war against the Abbies.
[Spoiler Alert]
If Season 2 episode 1 was all about exposing Dr. Theo Yedlin (Jason Patric) to a civil war that's engulfed Wayward Pines, then the upcoming instalment, episode 2 titled "Blood Harvest," is about the battle between humans and Abbies, particularly Ben's meek battle with the mutant cannibalistic creatures.
Last week, the leader of resistance and his friend Xander (Josh Helman) were taken to the border fence in a van, where they were surrounded by everyone's no. 1 enemy: Aberrations. In the upcoming episode, Ben (Charlie Tahan) will find the courage to step out of the vehicle and cross the fence into a territory that's uninhabited by humans.
It is not yet known what impels Ben to take a decision that defies logic, but in the promo for Season 2 episode 2, his mom Theresa (Shannyn Sossamon) is seen urging Jason for help. "My son is out there and he may be alive. Do something," she says.
However, the next few scenes of the preview clip transmit an ominous message when the Abbies are seen hunting, chasing and finally, jumping on what seems to be a body.
Will Ben survive? Will Jason heed to Theresa's request? Will Ben and Jason work together in the war against the Abbies? Perhaps this will be revealed when the next episode airs.
Season 2 episode 2's synopsis (via TV Guide) reads:
"Theo tries to leverage his power as the only surgeon in Wayward Pines to get answers about the status of his wife, Rebecca; at the same time, town historian CJ Mitchum spearheads a vital and potentially deadly project outside the fence. Meanwhile, Theresa frantically searches for her son; and Megan Fisher heads up the research being done on the Abbies."
"Wayward Pines" Season 2 episode 2 airs at 9 p.m. EST on Monday, June 1 on FOX. You can stream the past episodes via FOX NOW.