Wayne Rooney's fairytale move back to Everton was thought to be nothing but an early retirement, a way for the forward to return home and make amends after an acrimonious exit to Manchester United. Nobody really expected too much from the England international.
Well, Rooney clearly isn't ready yet for a paid holiday.
After scoring the winner in the 1-0 victory over Stoke City to start the new English Premier League season, Rooney added a second in as many Premier League games, with it reaching a fantastic landmark.
Rooney's goal against Stoke was his 199th in the Premier League, which meant he only needed one more goal to become only the second player in history, after Alan Shearer, to score 200 goals in the EPL era.
The minute was number 35 in the game at the Etihad, and this was a proper striker's goal. Rooney was loitering in the box, waiting for a cross or a nice pass, and he got that from Dominic Calvert-Lewin, who zipped in a low cross from the right.
Rooney went for the first-time strike, and that too with his left foot, and while the goalkeeper Ederson could have done better, the ball managed to hit the post and roll past the line.
The celebrations that followed were one of cupping his ears to the Manchester City fans that were booing him with every touch of the ball owing to his Man United connections, but Rooney had the last laugh.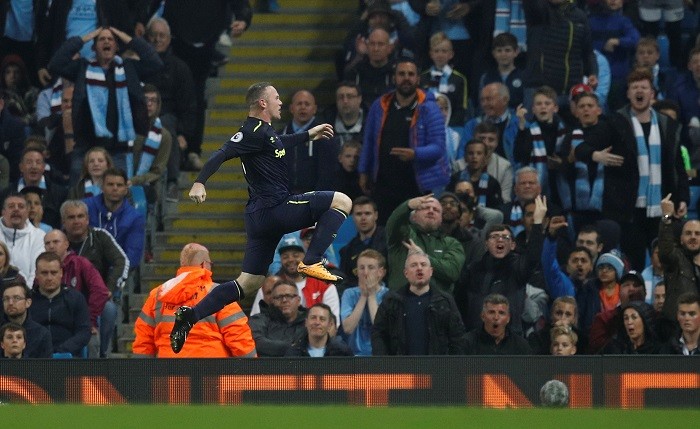 Of course, Everton couldn't go on and pick up all three points after Raheem Sterling scored a late equaliser in a game that had two controversial red cards – one each for Everton and Man City – but this was another point made by the great man – he isn't done yet, there is plenty left in the tank, and he already has his eye on Shearer's record of 260 Premier League goals.
"To join Alan Shearer [in the 200 club] feels great... but I still have a lot to do to catch Alan," Rooney said. "It's a great moment and hopefully there's a lot more to come.
"We've got a tough week. We'll have had a couple of days' rest, a game on Thursday and then another on Sunday. It's a tough week and we've started off with a good point. Hopefully we can build on that in the next two games."
Here are some of Rooney's best goals