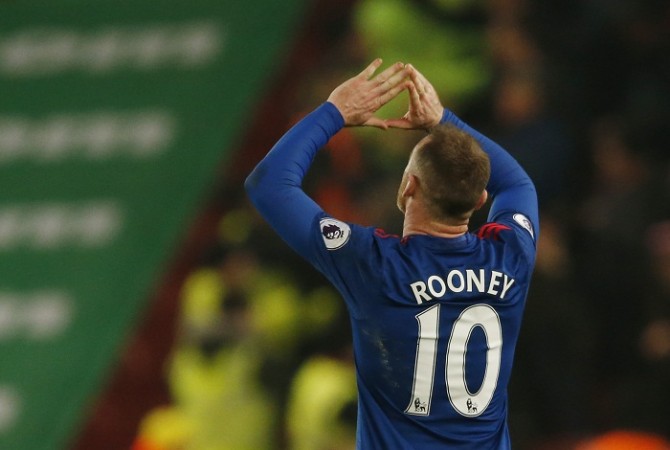 Wayne Rooney might not be getting a lot of chances at Manchester United at the moment but the Manchester United captain still has a lot to offer and he showed that last night after he scored in a beautifully executed free kick in the dying minutes of the match against Stoke City to secure a key point for Manchester United.
Also read: Cristiano Ronaldo to be sold by Real Madrid?
The goal was Rooney's 250th for Manchester United surpassing Sir Bobby Charlton's record of 249 goals making him Manchester United's all time top scorer.
"[It means] a hell of a lot. It's difficult at the moment to be over-pleased because of the result – two points dropped – but in the grand scheme of things it's a huge honor for me. It's something I never expected when I joined the club but I'm really proud and hopefully there's a lot more to come" The Guardian quoted Wayne Rooney as saying.
Sir Bobby Charlton was also quoted as saying "He's a true great for club and country. It's fitting he is now the highest goal scorer for both United and England."
Here is a list of Wayne Rooney's outstanding goals for Manchester United so far.
1. Manchester United vs Newcastle United (Premier League, April 24, 2005)
Wayne Rooney was just starting out his Manchester United career having signed for the club in 2004 and he did not waste any time in making an impact at Old Trafford. After going a goal down, Wayne Rooney inspired a Manchester United comeback after he struck a thunderous volley from outside the box straight into the top corner beating Newcastle United keeper Shay Given. Manchester United would go on to win the match 2-1 with Wes Brown scoring the winner.
2. West Ham United vs Manchester United (Premier League, March 22, 2014)
The goal resembled the goal David Beckham strike for Manchester United way back in 1996 against Wimbledon. It was a moment of pure genius as Rooney struck the ball from 57 yards after he overpowered James Tomkins and spotted a disoriented West ham keeper Adrian, only to score a spectacular goal.
3. Manchester United vs Manchester City (Premier League, February 12, 2011)
This goal, without doubt, will live long in the memories of football fans and is one of the best Rooney has ever scored; mostly because it came against the club's arch rivals Manchester City. With just 15 minutes left in the match, Nani sent a cross into the penalty area. Though it was a bit too high and behind Rooney, he readjusted his position and fired a perfectly executed overhead kick as Joe Hart stood rooted to the spot.
4. Hull City vs Manchester United (Premier League, December 26, 2013)
Manchester United was 2 goals down by the 12 minute of the match but they managed a comeback with Chris Smalling scoring the first goal and then Wayne Rooney levelling the score. Danny Welbeck guided the ball to Rooney's path and he hit the ball hard straight into the top corner of the net as Hull City keeper Allan McGregor stood witness. This goal marked Rooney's 150th goal for Manchester United.
5. Stoke City vs Manchester United (Premier League, January 21, 2017)
It would be cruel not to include Wayne Rooney's 250 goal for Manchester United in the list. Wayne Rooney has a knack for scoring goals when Manchester United needs it most and he usually does it in style. With United trailing, they got a free kick on the left side of the corner flag and a lot of people expected Rooney to deliver a cross in, but he had other ideas. He curled a beautifully placed free kick straight into the top corner in the 94th minute securing a point for the team.