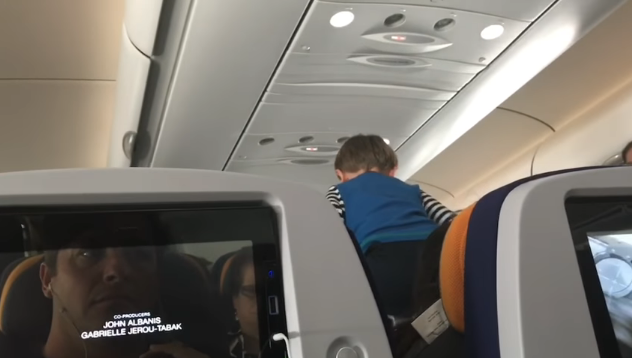 Do you get easily disturbed by sounds of people snoring and toddlers crying while you are on board a plane? If yes, the video of this "demonic" child screaming continuously for hours on a plane will drive you nuts.
Passengers on board a Lufthansa flight from Germany to the United States in August 2017 were highly traumatized by a restless child perching on the top of the seat, running down the aisles and yelling at the top of his voice for eight long hours, nonstop!
One of the passengers from New York named Shane Townley, who was also traveling with the kid, captured the eight-long long ordeal and uploaded the video on YouTube with the caption "Demonic child screams and runs through an 8-hour flight from Germany to Newark." Townley even labeled each hour as 'Demonic sounds continue Hour 1', Hour 2 and so on.
The video was first reported by Daily Mail and a source told that the child suffers from a disability which has not been specified and this has affected his behavior.
The mother of the child who has not been identified but appeared like an American asked one of the flight attendants to keep the Wi-Fi going to connect his iPad, suggesting that it will calm the child down.
The boy at one point in time, got extremely wild and clambered up the seat and started hitting the ceiling of the plane."Calm down Honey," the mother called out to his son trying her best to soothe him down in vain.
The child's scream was terribly disturbing and distressed passengers were seen covering their ears to avoid the noise, in the video.
And when the flight finally landed, passengers were seen heaving a sigh of relief. "That was a nightmare — eight hours of screaming," a person said.
The 5-min video that sums up the 8-hour ordeal has caught the attention of the netizens.
Check the video here:
Some have supported the mother, sympathizing with the child's condition whereas many have lashed out at her for being highly irresponsible on social media.
Check out the tweets:
I have one of these at home. He drives me nuts.
Nothing mom can do and I feel for her.
Demonic child torments passengers on 8-hour transatlantic flight https://t.co/TIsuoDmfZG

— angel grey (@angelgrey81) February 14, 2018
It's a child for heaven sake. You will never know the challenges, or medical condition the kid has. Grow up monsters, writes a header calling a child "demonic" is pathetic and evil. Whoever filmed it is equally stupid.

— Arun Daniel (@ad_kannadi) February 14, 2018
https://t.co/M3nPO8trWU
seriously please control your child. your not the only one that is on that plane. credit goes to the person who filmed this. demon child sorry but i said it.

— team lgbtq+ ? (@jacinta_Ip) February 13, 2018
8-hour flight from Germany to Newark. 3-year-old screams, climbs over sets, runs wild THE WHOLE WAY. How long could you take it? I noped out after 2 minutes: https://t.co/QFiSrYLLSP. I'd need an emergency landing.

— Depressed Overthinker Katie Karamazov (@NotesfromKatieK) February 13, 2018