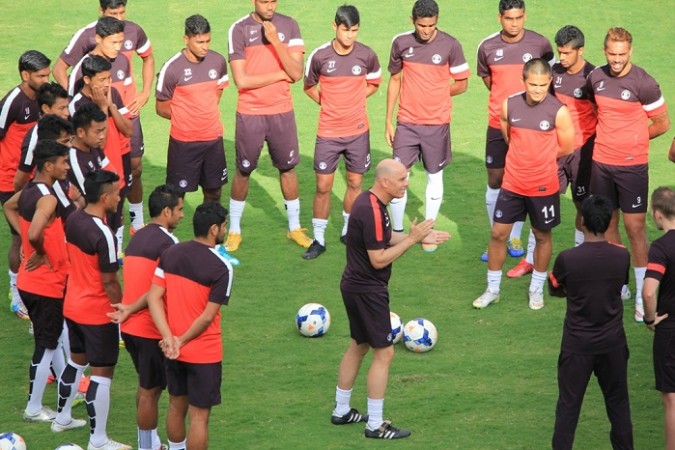 India will look to make a bright start in their preliminary World Cup qualifiers campaign when they host Oman in Bengaluru on Thursday.
To take a big step towards getting a shot at qualifying for the 2018 FIFA World Cup – a distant dream admittedly for India at the moment – the home side will need to do something they have never done before – beat Oman.
With Stephen Constantine back at the helm, things are looking up for the team in blue, and their first real test in World Cup qualification – India booked their place in the second round with a win over Nepal – will be against Oman, a team who have never tasted defeat to India and are ranked 40 places above them.
"[We] will try to give them a run for their money," Constantine, who named Arnab Mondal the team's captain, said. "From the first minute, we will fight and play our heart out and make it as difficult as we can for our opponents.
"We are going to need team spirit, cohesion and team work. The game against Oman will be tough as they are a good side, and have been consistent for quite some time."
Let's be honest, Oman are not exactly world beaters in football – they have a decent team capable of giving some of the Asian powerhouses a run for their money. However, against India they are the clear favourites, having won five of their seven meetings before.
Maybe that will work in India's favour, as they can go with that don't-have-to-worry-about-getting-beat-as-everyone-expects-it-anyway mindset and actually play some good football.
India, whose other opponents in Group D are Iran, Turkmenistan and Guam, certainly have some exciting players in their lineup, who, on their day, can cause worries to a defence of Oman's ilk. However, performing well for 15 minutes and doing the same for 90 are completely different things, and that will be Constantine's real test.
If the manager can get this team to play as a well-knit unit for the entire duration of the match, they just might have a shot at, not just picking up a point, but beating Oman, whose biggest names come in the shape of former Premier League goalkeeper Ali Al Habsi and ex PSG and Rangers coach Paul Le Guen.
"India have a good team," the Oman coach Le Guen said. "They deserve to be here. They have good players and their team is improving. The Indian team are like fighters, they love to play football and they are physically ready. But we want to beat them.
"We need to defend well and maintain the balance of the team because that is pivotal for us. We have to concentrate and at the top of our game."
Early goals are always key in such big games, and if a Sunil Chhetri or a Robin Singh can pop up with that ripper into the back of the net, an upset might just be in order.
"I am building a squad for the future," Constantine, who suffered a big blow after key defender Sandesh Jhingan was ruled out due to a shoulder injury, added. "I need to find the right balance the right attitude and the right mentality in every player I pick.
"The objective is to build forward and this takes a great deal of support from each and every Indian fan. We have eight games in hand and that are playing more fixtures are bound to increase our level."
Where to Watch Live
Get the India vs Oman Report HERE
India vs Oman World Cup Qualifier is scheduled for a 7 pm IST start with live coverage in India on Sony Six. The match can also be watched via live streaming online in India on Livsports.