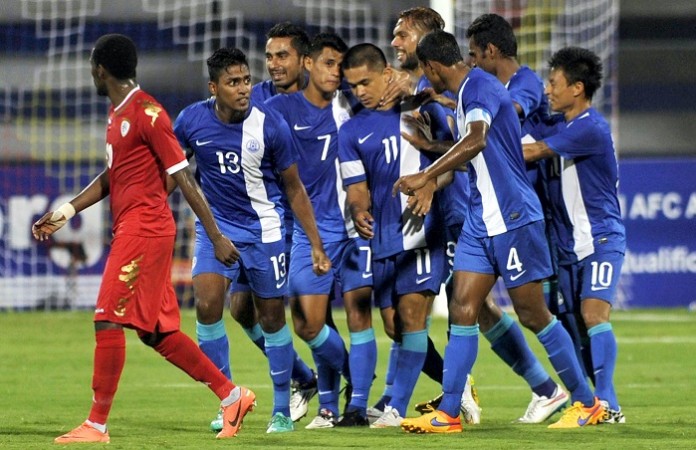 After losing a tight encounter against Oman in the World Cup qualifiers last week, India will play their second game in group D against Guam at Guam National Football Stadium on Tuesday.
Though the Indian team might resemble a stronger side on paper, Guam cannot be taken lightly, especially after they defeated Turkmenistan in their first match. They stand second in the group after their victory.
Hence, the team will be high on confidence and if the Indian team slip up, Guam will be ready to pounce on it.
The Indian team, despite their loss against Oman, received several applauds for their approach, which nearly helped them draw level. The score read 2-1. If the Indian team can play in a similar level and tempo, they have the ammunitions in the team to defeat Guam and take their first points in the 2018 World Cup qualifiers group D.
India will rely on the services of their key striker, Sunil Chhetri, who will lead India against Guam. Guam should remember Sunil Chhetri, as he scored two goals when these two teams met during the 2014 AFC Challenge Cup in Myanmar. India had won the match 4-0.
Robin Singh and Jakichand Singh needs to provide perfect support to Sunil Chhetri offensively.
But, Constantine is also aware of Guam players, who can provide threat to India as well.
"They have several of their Players playing in the US with a couple playing in the USA. Obviously they have the edge of having two home back to back Home games and they are going to maximize it as much as possible as everyone would," Goal quoted coach Stephen Constantine as saying.
With players such as AJ DeLaGraza, Ryan Guy, Brandon McDonald amongst others representing Guam and the vociferous home support, India have to be on top of their toes. Guam might sit back and defend deep, but India needs to be careful on Guam's counter.
Guam's coach Gary White, who is taking the team in the right direction, feels the future of Indian football is bright under Stephen Constantine.
"I think India are an organized side. They have got a new group of young players. This only goes to show the work Stephen has undertaken as he is planning and building a team for the future. Success is not achieved overnight and patience is very much needed. The future is bright for India with so much potential out there. Indian football is heading in the right direction under Stephen," said White.
The Indian football team must have been tired after their 16 hours flight, but still the team practised on Sunday, which was very important in order to acclimatise with local conditions.
When the Indian team takes their next 16-hour flight back home, they will want to have secured three points from their Tuesday's clash and stay alive in the competition.
It might be a humongous task for India to make any progress in the group with only two teams having a chance of going through to the next stage of qualifying. Iran and Oman are favourites from the group.
But a victory against Guam will help India move in the right direction and maintain pressure on other teams.
There is no live coverage of the match in India, but live score updates along with the commentary can be followed here.