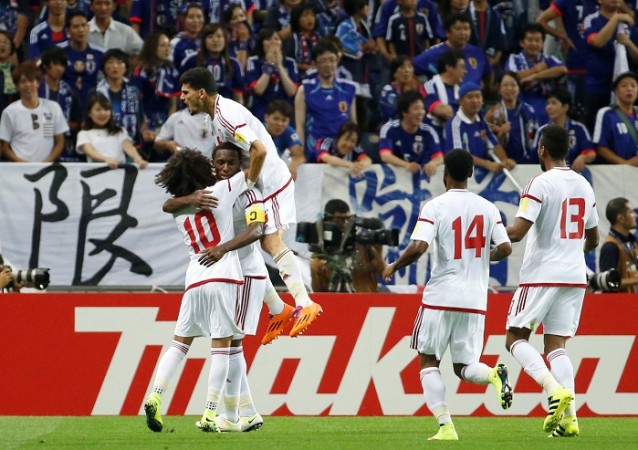 Australia and the UAE picked up commendable wins in their opening round matches of the 2018 World Cup qualifiers and neither will want to quell that momentum when they meet in Abu Dhabi on Tuesday.
While Australia were comfortable in their 2-0 win over Iraq in Perth last week, UAE caused a big upset when they got the better of Japan in Saitama.
With Japan expected to pick up a win, considering they have the much stronger side on paper and were playing at home, UAE overcame the concession of an earl goal to come away with a 2-1 victory, thanks to a double from their skipper Ahmed Khalil.
A big win like that always gives you confidence and the UAE will hope it is the start of much better things as Australia come for a visit.
"The UAE have played a long time with this group," manager Mahdi Ali said. "We work for a long time to create an identity for our team and I think we have an identity. We know what we need to do and hopefully we will see that on the pitch.
"Our preparations are going very well. We've worked very hard for this game. The morale is high. The first win against Japan gives us a good confidence boost. We respect all the teams, not only Australia. In football there are no easier teams or stronger teams. The team who is very well prepared, who have the will to win in the game and fight in the game, that gives the result in the end."
Australia, who had Massimo Luongo and Tomi Juric to thank for their 2-0 opening win over Iraq, do not have a great record in the Middle East of late, losing to both Jordan and Qatar. So, the UAE will look to take advantage of that weakness, even if Ange Postecoglou expects the home team to play like the away side come Tuesday.
"I think they'd be a bit fearful of us and have every right to be," the Australia manager said. "I expect them to sit back. "Other teams probably hold us in higher regard than we do ourselves.
"We're going to try and make it uncomfortable for them. The way we make it uncomfortable is to make sure we have more possession, we play in their half, we try and dominate, we get open as much as possible."
Where to Watch Live
UAE vs Australia -- World Cup qualifier -- is set to begin at 7.30 p.m. local time (9 p.m. IST, 4.30 p.m. BST). Live Streaming and TV information below.
India: No live coverage.
UAE: TV: Bein Sports 2 HD. Live Streaming: Bein Sports Connect.
Australia: TV: Fox Sports 3. Live Streaming: Foxtel.
USA: TV: ESPN3. Live Streaming: Watch ESPN.
South East Asia: TV: Fox Sports.