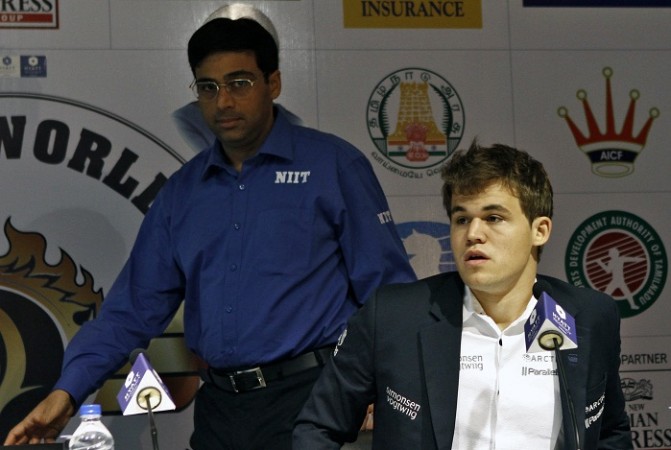 Viswanathan Anand had to pull out all of his defensive skills to keep Magnus Carlsen at bay and keep the Norwegian from taking a formidable lead in this World Chess Championship in Game 7. Now, it is back to the white pieces for Anand, after a two-game break, and the Indian will hope to pull the match level with victory in Game 8 over Carlsen.
The match is currently 4-3 in favour of Carlsen, after the world number one's victory in the error-prone Game 6. Game 7 ended in a draw, with Anand holding on for the half point after a 122-move marathon.
Carlsen was on top of Game 7 for much of the contest, but Anand showed his powers of concentration still remain, holding off the Norwegian to keep the World Chess Championship deficit at one point.
"It is not frustrating if I get a draw in the end," said Anand is he was disappointed at having to defend for so long in Game 7.
Game 8 will hopefully be a different cup of tea for Anand, though, with the former world champion playing with the white pieces. Both players have excelled -- when they have excelled, that is -- with the white pieces, and it will be up to Anand to ensure he does not let Game 8 pass by him without a win.
"In Rounds 3, 4 and 5 he played very well," Indian Grandmaster P Harikrishna told IANS. "Anand is playing normally and trying to win every game."
"Anand is playing fast and taking risks unlike the way he played in 2013 in Chennai during their first title clash," added another Grandmaster from the country RB Ramesh.
So, take some risks, make sure you cut out the mistakes and put Carlsen under the kind of pressure he was feeling in Games 3, 4 and 5.
Carlsen, on the other hand, will look to take advantage of momentum he has gained by playing with the white pieces in the last two games, and the young world number one will look to invoke the spirits of that terrific triumph in Chennai last year to topple Anand again.
Mistakes – even if they have been a lot less than that World Chess Championship last year -- have cost Anand way too much already in this rematch, and the 44-year-old will hope for a mistake-free Game 8, coupled with some astute early moves which puts Carlsen under pressure.
Live Streaming Information
Game 8 of the World Chess Championship 2014 in Sochi between Anand and Carlsen is set for a 3 pm local time (5.30 pm IST, 1 pm CET) start. There will b, unfortunately, no live coverage on TV in India, but Game 8 can be watched via free live streaming online on the FIDE Live Video Feed or with Analysis and Live Video.