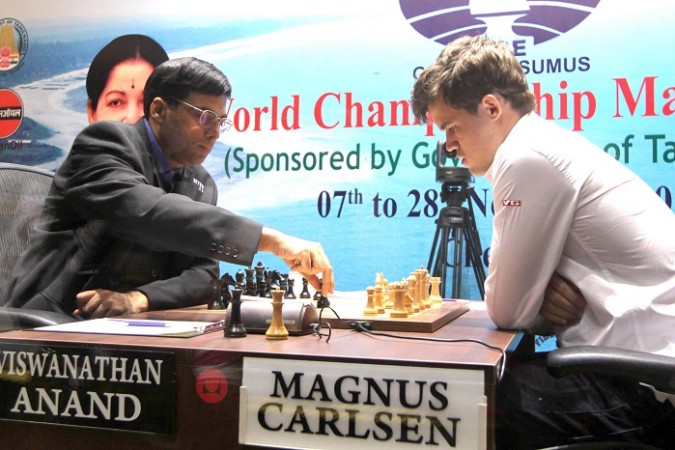 The one thing Viswanathan Anand would have hoped for before hopping onto that plane to Sochi would have been not to go down early to the world champion Magnus Carlsen in this FIDE World Chess Championship rematch.
The Indian legend, despite a few scares here and there, just about managed that in Game 1, holding on for a draw, but Carlsen, with his vibrant and creative play, took advantage in Game 2 to open up that lead.
It is never easy to catch up to someone, especially someone with such chess-playing prowess, in such a high-octane contest, where one drop of concentration will be punished. Anand will not only have to bring his A game, something he has failed to do, so far, in two games, to the World Chess Championship in Sochi on Tuesday for Game 3, but also hope that Carlsen is a little off his game.
Because, there is little doubt that Carlsen will be extra wary for this crucial Game 3, knowing fully the dangers of allowing Anand right back into the contest. It is clear that Carlsen's I'm-at-you-all-the-time approach is clearly causing Anand plenty of problems, problems he has not been able to shake off since that loss in Chennai last year.
"I just tried to put him under pressure, I don't know if I played the most accurate way, I think he could certainly have defended better, you cannot win in chess without mistakes, you got to play well to induce those," the world number one said after winning Game 2 on Sunday.
While Anand has not been at his best in terms of taking the advantage, the Indian has also failed to stop those mistakes, which Carlsen, as he mentioned above, has tried his best to induce. Experience is clearly in Anand's favour in this match, but, unfortunately, the veteran seems to be the one wilting more under the pressure.
If the Chennai match is anything to go by, Carlsen will only increase the pressure, and it will be up to Anand to withstand that onslaught and even turn the pressure around and see how the Norwegian copes.
"I kept hesitating between the queen and Bishop move," said Anand after the loss. "Even then it's not catastrophic there are many moments after that, but may be the slipup had started already."
Slipups have to be as far from Anand's vicinity as possible if the former world champion is to stage a comeback and tie the match at 1-1 come Tuesday. Carlsen, though, will be right there waiting to pounce on even the slightest of mistake to push that lead further.
Where to Watch Live
Anand-needs-to-win-this Game 3 of the World Chess Championship 2014 in Sochi is scheduled for a 3 pm local time (5.30 pm IST, 1 pm CET) start. Game 3 can be watched via free live streaming online on the FIDE Live Video Feed or with Houdini Analysis.