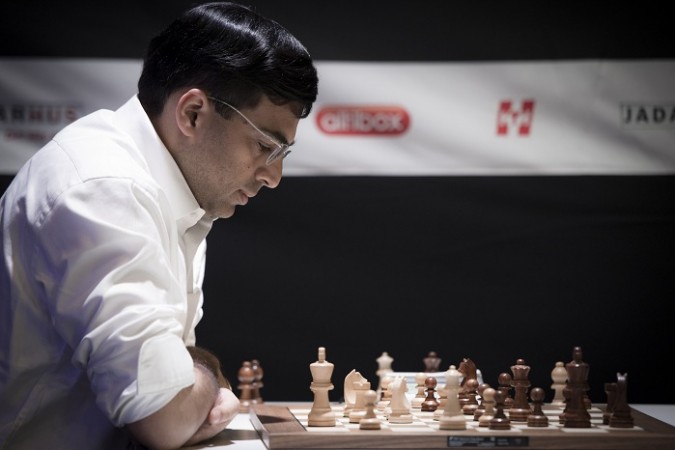 Two chances are all that remain for Viswanathan Anand to, at least, draw level with Magnus Carlsen in this World Chess Championship 2014 contest in Sochi, and the first of those two contests will be played on Sunday as the Indian looks for a momentous victory with the black in Game 11.
With the scores at 5.5-4.5 in Carlsen's favour, Anand needs to pull out all the stops in the next couple of games, if he is to harbour hopes of wresting back that world chess title from the Norwegian.
Anand failed to take advantage of playing with the white pieces in Game 10, playing it too safe and not really ruffling Carlsen's feathers enough to open up a victory chance.
That has been the case with Anand for most of this World Chess championship contest, barring a few exceptions, and even if he is playing with the black pieces, perhaps it is time for the great to pull something out his box of magic tricks.
So far, apart from Game 3, Anand has not been able to put a full point on the board from a single game, and Grandmaster and world number 26 P Harikrishna does not envisage that changing on Sunday, when the Indian will play with the black pieces.
"Anand may be looking mainly for a draw [in Game 11]," Harikrishna told IANS. "Carlsen on his part would try to put pressure initially and if it does not work, might play for a draw.
"Carlsen may even prolong the game as Monday is a rest day."
Anand needs at least a full point, while ensuring Carlsen does not get one in the process, of course, to force this World Chess Championship match into a tie-break.
With the final two games being played on Sunday and Tuesday, Anand will look at the game with his white pieces in Game 12 as the ideal opportunity to draw level with Carlsen, because, after all, very rarely does a player win with the black pieces in a World Chess Championship contest.
"Looking at the previous games Anand's play with black pieces was not solid," added Harikrishna on Saturday.
"It is important for him to get a good position in the opening stages of the game tomorrow. Very rarely a player with black pieces has won in the world championship games ."
In pretty much all the games so far, the opening has been pretty crucial and fascinating, and it will be interesting to see just what course Game 11 takes, because it just might decide where the World Chess title rests at the end of the match.
Where to Watch Live
Game 11 of the World Chess Championship between Carlsen and Anand in Sochi is scheduled to begin at 3 pm local time (5.30 pm IST, 1 pm CET). There is no live coverage on TV, but the game can be watched via free live streaming online on the FIDE Live Video Feed or with Houdini Aalysis and Live Video.