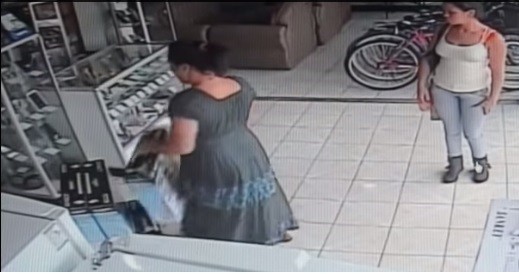 One woman and her "magic"' dress is on Costa Rican police's wanted list, since the CCTV in a shop captured the woman stealing a pretty big plasma TV by shoving it up her dress.
In the daring shoplift that took place a couple of months ago in a Guápiles store, the woman in question, whose identity is unknown, walked out of the store with the TV between her legs. If not for one sneaky CCTV, which went unnoticed by the talented woman, there would have been no proof of the matter.
Canal Oij, the YouTube channel dedicated to sharing information regarding common and organised crime in Costa Rica and combating them, posted the CCTV footage on 10 January. They hope that the public would be helpful in identifying the suspects.
The footage shows one woman, the first suspect, browsing through the items in the appliance store idly, as another, the one that committed the theft, walks in.
She hastily walks towards a stack of plasma TVs and picks one, before lifting her dress and shoving it between her legs. The first suspect watches the entire act, turns around, and walks out the store.
The woman with the big TV between her legs follows her out of the shop coolly. The entire ordeal took her less than 13 seconds, clearly proving that she has experience in carrying out such thefts.
Store assistant Jacint Ramirez Callas, who is still shocked by the CCTV footage from 11 November 2014, told Daily Mail, "...it's amazing that the TV doesn't fall out from between her legs... She must be a pro or have very thick thighs. She left as she didn't have a care in the world. I've never sen anything like it." (sic)
A police spokesman also speculated similar thoughts: "We believe this woman has had a lot of experience doing this... Either she has been practising at home or has carried out similar thefts and we appeal to anybody might know more to get in touch."
Watch the unbelievable video: