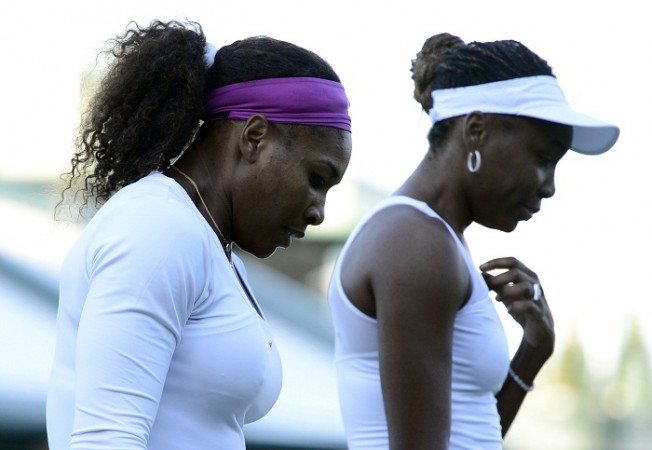 Serena Williams vs Venus Williams – it used to be the biggest draw in women's tennis a few years ago, and after a bit of a break, that rivalry will be rekindled when the two sisters face off in the fourth round of Wimbledon at Centre Court on Monday.
The Williams sisters are legends of the game already having won a combined 27 Grand Slam titles together – Serena (20), Venues (7) – while both the Americans have won five Wimbledon crowns each as well.
However, Serena and Venus' stories have gone in opposite directions over the past few years. While Serena has been reinvigorated under coach Patrick Mouratoglou, Venus has seen her tennis powers wane owing to an autoimmune disease she was diagnosed with four years ago.
Those old powers have shown signs of coming back, though, with Venus not dropping a single set so far on her way to the fourth round, albeit thanks to a bit of a kind draw as well.
Despite the improvements of late, however, Venus will start this match against Serena as the second favourite. The younger of the two sisters is hunting another "Serena Slam" having already captured the US Open, last year, the Australian Open and the French Open titles.
The "Serena Slam" was named so after the current world number one won the French Open, Wimbledon, US Open, in 2002, and then finally the Australian Open, in 2003, with, ironically, Venus losing to her younger sister in all four of those finals.
This time, owing to their seedings – Serena is number one and Venus is 16 -- and the fact that they were drawn in the same draw, there will be no Wimbledon final meeting, it will be an exit for one of the Williams sisters in the fourth round.
"It's unfortunate that it's so soon," Serena said when asked about facing her big sister Venus in round four of Wimbledon. "But we're going to do the best that we can. I mean, she's my sister today. She's my sister next week. She's my sister next year. I think that's a little more important than a match.
"We'll leave everything out on the court. When it's done, you know, we'll go back to regular life."
Serena has shown signs of vulnerability at this year's Wimbledon, with Heather Watson nearly causing a major upset in the third round. However, those never-give-powers are as strong as ever in the world number one, but if there is anyone capable of breaking the Serena's hold on the Grand Slams, it is Venus, who beat her sister in their last match, in Montreal in 2014.
"We've been facing each other a long time so we both have a lot of respect for each other's game," said Venus. "We both play quite well. We both know we have to play well against each other. I think we probably know each other best."
This fourth round match will be 26th meeting between the Williams sisters –Serena holds a 14-11 edge in the head-to-head record. The last time the two legends of the sport met in a Grand Slam, it was in the 2009 final at Wimbledon, which Serena won in straight sets.
Hopefully, this fourth round match on Saturday, goes the distance, and that savour-element should be at its highest as well, because this will be one of the last times, if not the last, these two great sisters play against each other on the greatest court in tennis.
Where to Watch Live
Get the Match Report HERE
Serena Williams vs Venus Williams is the first match on Centre Court with a scheduled 1 pm local time (5.30 pm IST, 8 am ET) start. Live TV coverage of this big women's singles match will be on Starsports 2, while all the action, including the other matches as well, can also be watched via live streaming online on Hotstar and Starsports online.
Viewers in the UK can watch Wimbledon 2015 live on BBC One and BBC Two, while the action can also be live streamed on BBC iPlayer.
Audience in the US can watch the two Americans slug it out on Centre Court on ESPN, while the fourth round action at Wimbledon can also be watched online via a live stream on Watch ESPN.
Viewers in Australia can watch the day's action live on Channel 7, with the online live streaming option on 7tennis.