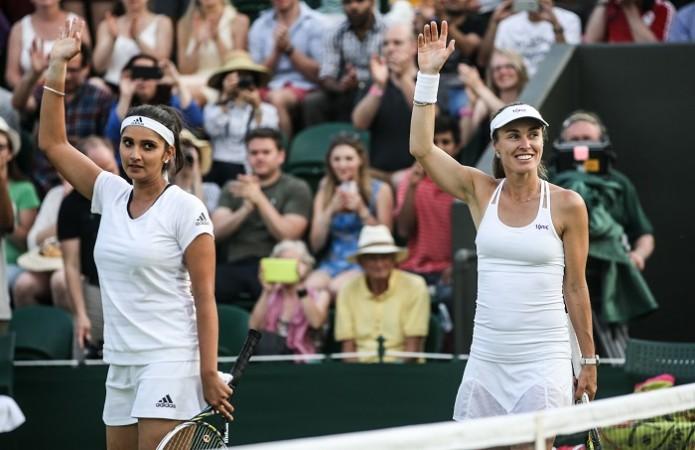 Sania Mirza is one win away from her first Grand Slam women's doubles title; Martina Hingis, well, she is a victory away from adding another crown to her already bulging CV. The No.1 seeds will meet the No.2 seeds Ekaterina Makarova and Elena Vesnina on Saturday at Centre Court for the Wimbledon 2015 women's doubles title.
Hingis and Sania have played some outstanding tennis at the Championships this year, not dropping a single set on their way to the final.
Being the top seeds, though, is never easy, as there is that little bit more pressure on you, and while they did not handle that pressure too well at the French Open, Wimbledon has not been a problem.
They showed they mean business, with another brilliant performance in the semifinal, comfortably beating the fifth seeded pair of Raquel Kops Jones and Abigail Spears 6-1, 6-2 on Friday.
While Sania is looking to make history by claiming her first women's doubles title in a major, this match on Saturday will be pretty special for Hingis as well, considering it is her first final at Wimbledon in 17 years.
"We just go out there and try to treat it like any other match," Sania was quoted by Wimbledon's official website. "That's what happened today [in the semifinal] and that's when we can play our best. If we put more pressure on ourselves then I don't think we can play our best.
"We don't really think about what we have achieved or are going to achieve. We think about that moment [of stepping onto the court]."
Sania and Hingis have worked so well because they complement each other perfectly. The Indian is all about the powerful forehands and the biggish serves, while Hingis backs that up with her acute volleys and ability to find impossible angles.
In Vesnina and Makarova, however, the Indian-Swiss pair come up against a tough opponent, with the Russians also quite experienced in the doubles department.
Sania will know Vesnina quite well, having played doubles with her for quite a while, and in the end how the two teams overcome/take advantage of that familiarity will probably decide the outcome of this women's doubles final.
"We're playing against one of the best teams and Martina, she's the one, she's a legend honestly and she's the one who keeps playing for a long, long time at the same high level so it's going to be difficult," Vesnina said.
"We're just looking forward to the final. It's just amazing that we've been through all these tough matches and we're in the final."
Where to Watch Live
The women;s doubles final is the third match at Centre Court on Saturday, with the first one, the women's final, set to begin at 6.30 pm IST (2 pm BST, 9 am ET).
Live TV coverage of the women's doubles final will be on Starsports 2, while all the action of Wimbledon 2015 can also be watched via live streaming online on Hotstar and Starsports online.
Viewers in the UK can watch Sania/Hingis vs Makarova/Vesnina live on BBC One and BBC Two, while the match can also be live streamed on BBC iPlayer.
Audience in the US can watch Martina Hingis/Sania Mirza vs Elena Vesnina/Ekaterina Makarova live on ESPN, with the live stream option for the final on Watch ESPN.
Australia viewers can watch the doubles final live on Channel 7, with the online live streaming option on 7tennis.
Wimbledon Radio will also provide the radio coverage for the final.