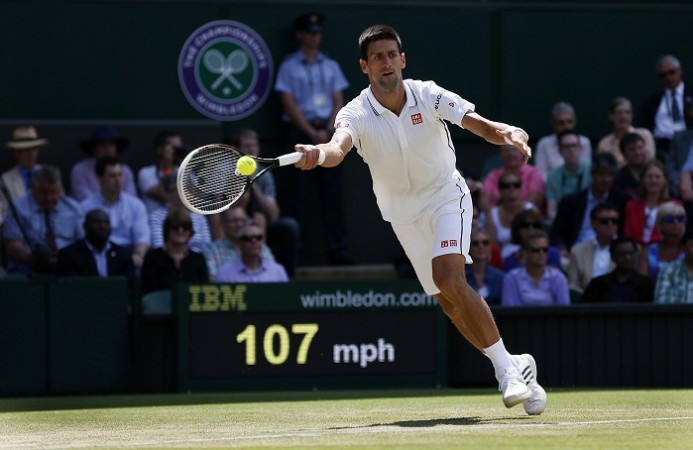 Defending champion Andy Murray will face Kevin Anderson of South Africa, while top-seed Novak Djokovic will lock horns with the dangerous Jo-Wilfried Tsonga in the fourth round of the Wimbledon on Monday.
Murray is yet to drop a set this year at the All England Club, and in the third round he dismissed Roberto Bautista Agut to book a pre-quarterfinal clash with the South African. On the other hand, Anderson battled past Fabio Fognini in five sets.
Their head-to-head encounters are split at one game apiece but Anderson won their last clash in Montreal in straight sets. They have never faced each other on grass as both the previous meetings were on hard court.
The Scot said that there is much more in Anderson's game than just raw power and insisted he is a tough opponent to beat. He pointed out that Anderson may not be a big-server like some other players but he moves around a lot and returns most of the balls.
"He doesn't serve as big as Isner or Karlovic but he is probably better from the back of the court," Murray said. "He has a better return game too. There might be more chances to break but equally he will return better and make more balls when you are serving."
"I would also say he is more mobile than Karlovic. Isner and Kevin both move well on the hard courts and I have played them both. But most of the big guys who play from the back of the court are pretty good movers."
It will be a tough outing for the world number 18, who has been hit by a back trouble in the last match. Anderson racked up 47 aces in the first two matches of The Championship but only managed to hit 16 against Fognini.
The 28-year-old admitted that the stiffness in the back prevented him from serving well in the third round encounter.
Meanwhile, Djokovic booked his last 16 clash with Tsonga, after after surviving a scary fall against Gilles Simon of France. The Serb crashed heavily on the turf, while reaching for a forehand, and was in extreme pain but recovered and showed no signs of discomfort during the match.
"It was a sharp pain when I fell, an awkward fall," Djokovic said. "I was just hoping there is nothing going on with the joint, luckily there is no damage and I could play."
The Serb has won 12 matches against Tsonga in 17 meetings, including their most recent meeting at the Roland Garros. But the top-seed feels it will be a big challenge to get past the Frenchman in the fourth round.
"It's obvious as the tournament progresses you are going to face some higher ranked players - like Tsonga - who has been a regular in the second week," Djokovic stressed. "He's a great grass-court player, he loves the energy of the big stadium and it is going to be a big challenge for both of us."
Tsonga said that he is happy to play three good matches in the tournament so far, and insisted he is looking forward to facing the world number two in the fourth round.
"I'm very happy. I played three good matches. I'm looking forward to this match against Novak. I think I need to play against those players... I know I'm in good form, I'm playing well and I want to give my best on the court."
Schedule of Play
Andy Murray vs Kevin Anderson 7:30 pm IST, 10:00 am ET and 2:00 pm GMT
Novak Djokovic vs Jo-Wilfried Tsonga 10:30 pm IST, 1:00 pm ET and 5:00 pm GMT
Where to Watch Live
The day's action is scheduled for 4:00 pm IST, 10:30 am GMT and 6:30 am ET start, with live coverage on Star Sports 1 and Star Sports HD1 in India and live streaming option HERE and HERE. International viewers can catch the action HERE and HERE or listen to the action free HERE.
BBC will broadcast matches live in the UK. Viewers can also live stream the action HERE or HERE. Catch the action live on ESPN in the United States or see live streaming HERE. SuperSport will telecast the action in South Africa and Sub Saharan Africa and viewers can catch the matches live HERE.