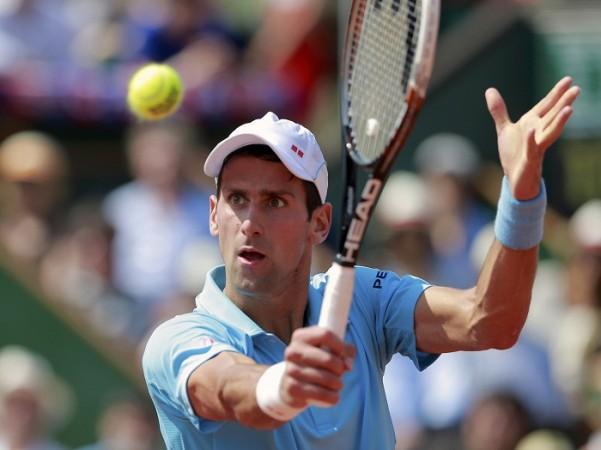 Novak Djokovic will open his Wimbledon campaign against Russian Andrey Golubev at the All England Club on Monday. The Serbian leads Golubev 2-0 in head-to-head clashes thus far, and it could be an easy first round match for the former champion.
Djokovic has arrived at the All England Club as the top-seed, despite being on second place in the ATP rankings behind the two-time champion Rafael Nadal. The 2011 winner said he has some good memories of the tournament and vowed to prove his seeding was right.
"A little bit (surprised) to be honest," Djokovic said. "I appreciate the respect that I get from the Wimbledon tournament - I always tried to perform my best tennis in this tournament. I dreamt to win, which happened in 2011. I had some success there many semi-finals and finals, and it may have affected the decision. It's a responsibility, an extra pressure if I can say it like that."
The 27-year-old since finishing runners-up in the French Open has not played any tournament, as he pulled out of the preparatory tournament in London. It is revealed that the Belgrade-born Djokovic was dealing with some wrist issues, which forced him to miss the Madrid Open earlier in the season.
The world number two, however, shrugged off any fitness worries ahead of the Wimbledon and insisted that his wrist is fine now. Djokovic added that he is feeling motivated to compete on grass after taking sufficient rest following the Roland Garros.
"It's the first time that I have problems with the wrist," Djokovic said. "I started feeling it before Monte Carlo tournament started. I played Monte Carlo under strange conditions, under a lot of pain. I decided to skip Madrid, which was a good decision, because I played pain-free in Rome and Roland Garros."
"Right now I don't feel any pain But I felt like when I'm changing surfaces, especially from clay to grass, in the opening few days of the practice here got a little bit of a strange sensation in the wrist," he added.
"Now it's fine, so hopefully it can stay that way. Roland Garros in general has taken a lot out of me emotionally. That's the reason why I haven't been taking part in one of these lead-up events."
"It helps because as much as we love this sport, you need to balance and try to have some recovery time which can recharge your batteries mentally most of all. That's what I got, so now I'm very motivated to play Wimbledon."
Djokovic is hopeful that three-time Wimbledon champion and now coach Boris Becker will inspire him to win the second title at the All England Club.
"I think here (is) where he had most success in his career," Djokovic said. "So I hope we can together have a great two weeks. It's the first time we're working together in Wimbledon where he has won three times."
Where to Watch Live
The day's action is scheduled for 4:00 pm IST, 10:30 am GMT and 6:30 am ET start. Novak Djokovic vs Andrey Golubev will start at 10:30 pm IST, 5:00 pm GMT and 1:00 pm ET with live coverage on Star Sports 1 and Star Sports HD1 in India with live streaming option HERE and HERE. International views can catch the action HERE and HERE or listen to the action free HERE.
BBC will broadcast matches live in UK viewers can also live stream the action HERE. Catch the action live on ESPN in the United States or see live streaming HERE. SuperSport will telecast action in South Africa and Sub Saharan Africa and viewers can catch the matches live HERE.