While You Were Sleeping, the SBS romantic thriller, will be back with episodes 5 and 6 this Wednesday, October 4, at 10 pm KST. These episodes will revolve around the blossoming romance between Jung Jae Chan and Nam Hong Joo.
The female lead started liking her neighbour after he saved her life. She wants to work with him for preventing her nightmares from coming true. Although she approached him several times and even tried to prove that she can see the future through her dreams, he never believed her.
But things took a surprising turn after the rookie prosecutor saw his brother in danger through a nightmare. He decided to seek his neighbour's help and approached her to find out what exactly happens to his siblings.
Also read Reunited Worlds episodes 39, 40 (finale) recap: Season 2 predictions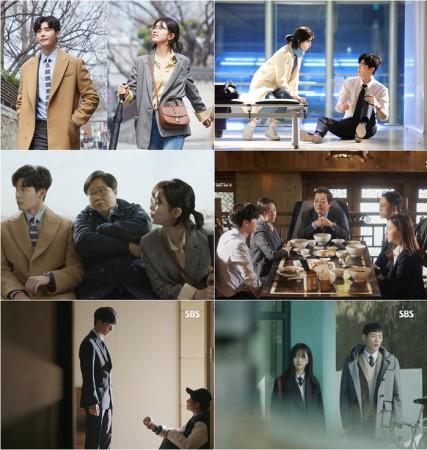 The viewers are already looking forward to a team-up between the rookie prosecutor and his neighbour. According to a Twitter poll conducted by International Business Times India Edition, an impressive 96 percent of the participants claimed that the onscreen couple will change the future again.
While trying to sort things out and prevent Jung Seun Won from getting into trouble. The onscreen couple could get closer to each other. According to an industry insider, the upcoming episodes will feature a change in relationship for Jung Jae Chan and Nam Hong Joo.
"If last week's events started the changes between Jae Chan and Hong Joo's relationship, then this week's episodes will bring about yet another change," Soompi quoted the source.
Meanwhile, the promo shows the onscreen couple spending quality time with each other. When the male protagonist asks his neighbour why she is not wearing a contact lens, she starts teasing him. "Do I look different without glasses? Are you falling for me again?" she asks him.
Click here to watch While You Were Sleeping episodes 5 and 6 tonight at 10 pm KST on SBS. The mini-series will also be available online on video streaming sites Viki and DramaFever.
Watch the trailer below: