While You Were Sleeping — the SBS romantic fantasy thriller — is coming to an end with episodes 31 and 32. The finale is scheduled to air on Thursday, November 16, at 10 pm KST.
While fans are desperately waiting to see lawyer Lee Yoo Beom behind bars, they are also looking forward to seeing a happy ending for prosecutor Jung Jae Chan, news reporter Nam Hong Joo and police officer Han Woo Tak.
But the preview teases some unexpected challenges for the young prosecutor and his two friends. It shows the police officer being questioned by the prosecutor.
Also read Asia Artist Awards 2017 complete winners list: While You Were Sleeping star Suzy Bae, EXO and others
"What was the colour of the umbrella?" Jung Jae Chan asks Han Woo Tak during the trial. Instead of replying to the question, the police officer says: "Please continue the questioning Prosecutor Jung."
The promo then shows Lee Yoo Beom confidently looking at the camera with a smile while someone can be heard saying: "The game is over."
The preview also hints at the demise of detective Choi Dam Dong. Before heading to the rooftop, the detective meets lawyer Lee Yoo Beom.
"Everything is over now. You can go abroad right now. You can't go on like this anymore. I thought there was more time. But it's now," the detective tells the lawyer.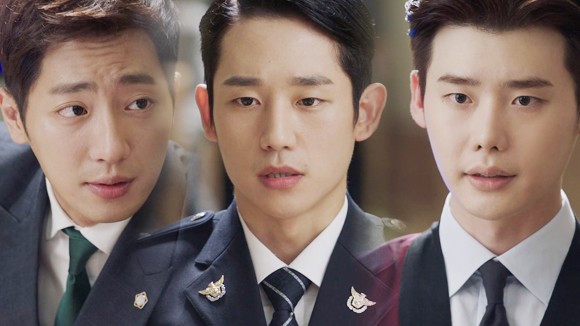 The promo for episodes 31 and 32 of While You Were Sleeping also features a conversation between Jung Jae Chan and Nam Hong Joo.
"I thought it was just passing by. Even though it feels important now, after it passes you will feel it was nothing. Tell her not to worry about it. Waiting will be short and meeting will be long," the prosecutor tells the reporter.
Watch the preview below:
Will Jung Jae Chan and Nam Hong Joo part ways in the finale? The production team is tight-lipped about it. Here's what they have to say about the upcoming episodes (via Soompi):
We are now approaching the end of While You Were Sleeping. Tune in to see if Jae Chan is able to remove Yoo Beom's mask and reveal the truth.
Click here to watch While You Were Sleeping episodes 31 and 32 tonight at 10 pm KST on SBS. The mini-series will also be available online on video-streaming sites Viki and DramaFever.