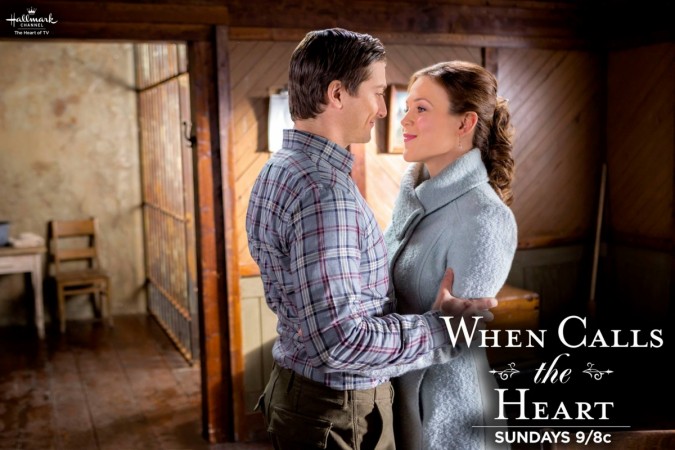 "When Calls the Heart,' the feel-good drama on Hallmark channel, is about to wrap up its third season and, with it, offers closure to fans of Abigail Stanton (Lori Loughlin) and Elizabeth Thatcher (Erin Krakow). In the latest instalment, Season 3 episode 7 titled "Heartbreak," Elizabeth and Jack Thornton (Daniel Lissing) cement their relationship with a ring, while Abigail loses her family.
[Spoiler Alert]
Throughout Season 3, Abigail's life has been defined by the presence of Cody and Becky. These two kids made her dream of a family she never really had. However, their aunt's visit in episode 6 signalled an unceremonious end to a family life the café owner so enjoyed. Although Cody and his sister resisted the idea of moving away from Abigail, she has to make some tough decisions for herself and the children. This will be the crux of episode 7.
In the promo, Abigail, overcome with emotions, asks Cody's aunt if she does indeed want to foster them. Although this shocks the relative, she responds by saying that the kids couldn't have lived with Abigail for the rest of their lives.
This statement upsets Abigail but she turns to Frank Hogan (Mark Humphrey) for support. The pastor and the love of her life comforts her by asking to look at life beyond the kids. Perhaps it is this motivation that she needs because she needs to be there for her best friend Elizabeth, who may tie the knot with Jack.
The promo hints at an engagement in episode 7 and proceeds to show clips of the school teacher and Jack. Will there be no love lost in Hope Valley?
Season 3 episode 7's synopsis (via TV Guide) reads:
Abigail endures anguish when the children's aunt arrives and a parting seems inevitable; the citizens of Hope Valley observe a powerful act of love.
"When Calls the Heart" Season 3 episode 7 airs Sunday, March 27, at 9 p.m. EST on Hallmark channel. You can live-stream the episode via Hallmark channel's website.